John Le Gay Brereton
Biography of John Le Gay Brereton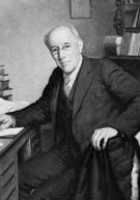 John was the son of a doctor of the same name who came to Sydney in 1859. Dr Brereton rapidly established himself in his profession and sired a large family. Among his other achievements, he set up Australia's first Turkish Bath in Spring Street and following its success, opened larger premises in Bligh Street on 14 March, 1861. Originally a Quaker, Dr Brereton was converted to the teachings of Swedenborg and became a leader of the New Jerusalem Church, the tenets of which underlay his several published volumes of poetry and didactic prose.

John Le Gay Brereton the Younger (as he was always known) was the fifth son, born in the family's home in Richmond Terrace, which then existed between Sydney Hospital and the Domain, on September 2, 1871. In 1882, when John the Younger was 11, his father retired to Osgathorpe at Gladesville, reputedly the house occupied by Ludwig Leighhardt before he left on his ill-fated expedition in 1848.

As a boy, John the Younger appears to have preferred his own company, being in his own words a "timid child with heart oppressed ... by images of sin." In 1881 he entered Sydney Grammar School where he had no enthusiasm for the team sports favoured by the other boys. However, in 1887 he joined the editorial committee of the school magazine, The Sydneian, and thus began what was to prove his most illustrious and influential literary career.

Le Gay Brereton was not only a writer: he was also a voracious reader. Library services at that time in Sydney were not well developed, so it was a measure of his need to read that the youth approached and even persuaded the famous "recluse of Darlinghurst Road", the bibliophile David Scott Mitchell, to lend him books from his own huge private library. In his researches, Martin Smith even found in a copy of Brereton's Oithona, published in 1902, a dedication in his own hand to David Scott Mitchell, indicating that Brereton himself clearly recognized the literary debt of gratitude he owed the older man.

Mitchell appears to have introduced Brereton to the two great literary influences of his life: one was Christopher Marlowe, the Elizabethan playwright, whose work greatly influenced Brereton's later scholarly prose; the other was Walt Whitman , the American openly homosexual poet whose style and sentiments provided the blueprints for Brereton's own poetry. He was only a teenager when he first read Whitman. Later in his life, in a backward look at books he remembered , Brereton wrote:

"On the ferry boat I pored over Whitman's Leaves of Grass, without perhaps understanding much of it, borne on tremendous billows of sound to a region of glorious mystery..." (in The Lone Hand, published by JF Archibald, February 1913)

Brereton entered Sydney University as an undergraduate in the Faculty of Arts in 1891. His academic record in general was not outstanding. In English however, he was one of the most brilliant students Mungo MacCallum, the Professor of Modern Literature, ever had. He not only won MacCallum's own prize for English essays but also the University Medal for English Verse in both 1892 and 1893. As an undergraduate he was active in SUDS and from 1891 until 1894 he was one of the editors of the Arts journal Hermes. In 1896 he published his first book of poetry. Its title, "The Song of Brotherhood" gives a clear indication of its contents:

My hand in yours, dear friend,
I give you words of greeting -
Of friendship without end,
My hand in yours, dear friend,
My heart with yours in loving music beating. "

Despite his academic brilliance, there were no suitable academic vacancies at the University when Brereton graduated in 1894 so from time to time he did some lecturing for the recently-established University Extension Board. He apparently shocked his former mentor, Mungo MacCallum, when he devoted his first such lecture to a frank discussion of the homosexuality apparent in Walt Whitman's "Leaves of Grass. "

Brereton's academic and professional career had two major segments, one as the first director of the Fisher Library and later, as the first of the Challis Professors of English Literature.

What is of interest here is the influence Brereton had upon Australian literature. Through the 'Nineties and later in the new century, Brereton was a respected member of the literary Bohemia which nurtured, among others, Henry Lawson and Christopher Brennan.

Lawson and Brereton first met in 1894 at the home of Mary Gilmore. The attraction between them was immediate, sharing as they did not only similar temperaments but also many ideals and beliefs and particularly, their liking for the great outdoors and life on the road. Not read nowadays but important in our literary (and gay) history, is Brereton's "Landlopers", published in 1899, in which he tells of the journey by a man and a youth who humped their swags from Gladesville to Janolan, to Moss Vale and Gerrigong and back to Sydney.

Throughout the middle years of his life, Brereton's closest friend and companion was Duncan Hall. Brereton, Duncan and his brother Machin Hall, along with several other young men, often spent holidays together in a cave on the banks of the Nepean River. There, Brereton - who was very much the wise and mature elder of the little gang - found the liberation of spirit he enjoyed on the road in his younger years.

Brereton died on 2 September 1933 while on a caravan tour of northern New South Wales. His contributions to Australian literature and scholarship are not in doubt. What is open to question, however, is the extent to which he was homosexual? Despite his outwardly "homoaffectional" poetry and whatever he said in his lectures about Walt Whitman, Brereton married a Gladesville girl in 1900 and subsequently had 4 sons and a daughter. Indeed, one of the two men who were with him when he died on the fateful caravan tour of the Northern Tablelands was his son, Ray.

John Le Gay Brereton's Works:

The Song of Brotherhood (1896)
Landlopers (1899)
Sea and Sky (1908)
The Burning Marl (1919)
Swags up! (1928)
Knocking Round (1930)
Henry Lawson, by his Mates, ed. (1931)
This page is based on the copyrighted Wikipedia John Le Gay Brereton; it is used under the Creative Commons Attribution-ShareAlike 3.0 Unported License. You may redistribute it, verbatim or modified, providing that you comply with the terms of the CC-BY-SA.
Home
"Where shall we dwell?" say you.
Wandering winds reply:
"In a temple with roof of blue
-- Under the splendid sky."

Never a nobler home
We'll find though an age we try
Than is arched by the azure dome
Of the all-enfolding sky.