Biography of John Lydgate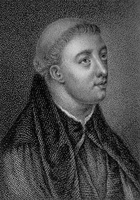 John Lydgate of Bury was a monk and poet, born in Lidgate, Suffolk, England.

Lydgate is at once a greater and a lesser poet than John Gower. He is a greater poet because of his greater range and force; he has a much more powerful machine at his command. The sheer bulk of Lydgate's poetic output is prodigious, amounting, at a conservative count, to about 145,000 lines. Life at the monastery of Bury St. Edmund's, where he spent most of his life, gave him a leisure that many another poet might have envied, and enabled him to explore and establish every major Chaucerian genre, except such as were manifestly unsuited to his profession, like the fabliau. In the Troy-book (30,117 lines), an amplified translation of the Trojan history of the thirteenth-century Latin writer Guido delle Colonne, commissioned by Prince Henry (later Henry V), he moved deliberately beyond Chaucer's Knight's Tale and his Troilus, to provide a full-scale epic. The Siege of Thebes (4716 lines) is a shorter excursion in the same field of chivalric epic. The Monk's Tale, a brief catalog of the vicissitudes of Fortune, gives a hint of what is to come in Lydgate's massive Fall of Princes (36,365), which is also derived, though not directly, from Boccaccio's De casibus virorum illustrium. The Man of Law's Tale, with its rhetorical elaboration of apostrophe, invocation, and digression in what is essentially a saint's legend, is the model for Lydgate's legends of St. Edmund (3693) and St. Albon (4734), both local monastic patrons, as well as for many shorter saints' lives, though not for the richer and more genuinely devout Life of Our Lady (5932).

Early Life and Education

He was admitted to the Benedictine monastery of Bury St. Edmunds at fifteen and became a monk there a year later.

Patronage

Having literary ambitions (he was an admirer of Geoffrey Chaucer and a friend to his son, Thomas) he sought and obtained patronage for his literary work at the courts of Henry IV of England, Henry V of England and Henry VI of England. His patrons included, amongst many others, the mayor and aldermen of London, the chapter of St. Paul's Cathedral, Richard de Beauchamp, 13th Earl of Warwick and Henry V and VI, however his main supporter from 1422 was Humphrey, Duke of Gloucester. In 1423 he was made prior of Hatfield Broad Oak, Essex but soon resigned the office to concentrate on his travels and writing. He was a prolific writer of poems, allegories, fables and romances, yet his most famous works were his longer and more moralistic Troy Book, Siege of Thebes and the Fall of Princes. The Troy Book was a translation of the Latin prose narrative by Guido delle Colonne, Historia destructionis Troiae. At one time, the long allegorical poem The Assembly of Gods was attributed to him, but the work is now considered anonymous. Lydgate was also believed to have written London Lickpenny, a well-known satirical work; however, his authorship of this piece has been thoroughly discredited. He also translated the poems of Guillaume de Deguileville into English. In his later years he lived and probably died at the monastery of Bury St. Edmunds.

Talent

The Oxford English Dictionary cites Lydgate with the earliest record of using the word "talent" in reference to a gifted state of natural ability.

Quotations

"Who lesith his fredam, in soth, he lesith all."
—an old proverb Lydgate included in his moral fable The Churl and the Bird
Lydgate wrote that King Arthur was crowned in "the land of the fairy", and taken in his death by four fairy queens, to Avalon where he lies under a "fairy hill", until he is needed again.

Lydgate is also credited with the first known usage of the adage "Needs must" in its fullest form: "He must nedys go that the deuell dryves" in his The Assembly of Gods. Shakespeare later uses it in All's Well That Ends Well.

Lydgate is a character in a 2003 mystery novel The Bastard's Tale, by Margaret Frazer, which takes place in Bury St. Edmunds in 1447.

John Lydgate's Works:

Troy-book
The Siege of Thebes
Fall of Princes
St. Edmund
St. Albon
This page is based on the copyrighted Wikipedia John Lydgate; it is used under the Creative Commons Attribution-ShareAlike 3.0 Unported License. You may redistribute it, verbatim or modified, providing that you comply with the terms of the CC-BY-SA.
Vox Ultima Crucis
TARYE no lenger; toward thyn heritage
Hast on thy weye, and be of ryght good chere.
Go eche day onward on thy pylgrymage;
Thynke howe short tyme thou hast abyden here.
Thy place is bygged above the sterres clere,
Noon erthly palys wrought in so statly wyse.
Come on, my frend, my brother most entere!
For the I offered my blood in sacryfice.