John Osborne
Biography of John Osborne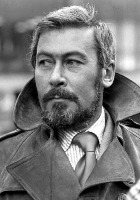 John James Osborne (12 December 1929 – 24 December 1994) was an English playwright, screenwriter, actor and critic of the Establishment. The success of his 1956 play Look Back in Anger transformed English theatre.

In a productive life of more than 40 years, Osborne explored many themes and genres, writing for stage, film and TV. His personal life was extravagant and iconoclastic. He was notorious for the ornate violence of his language, not only on behalf of the political causes he supported but also against his own family, including his wives and children.

Osborne was one of the first writers to address Britain's purpose in the post-imperial age. He was the first to question the point of the monarchy on a prominent public stage. During his peak (1956–1966), he helped make contempt an acceptable and now even cliched onstage emotion, argued for the cleansing wisdom of bad behaviour and bad taste, and combined unsparing truthfulness with devastating wit.

Osborne was born in December 1929 in London, the son of Thomas Godfrey Osborne, a commercial artist and advertising copywriter of South Welsh extraction, and Nellie Beatrice, a Cockney barmaid. In 1935 the working-class family moved to the Surrey suburb of Stoneleigh, in search of a better life, though Osborne would regard it as a cultural desert - a schoolfriend declared subsequently that "he thought [we] were a lot of dull, uninteresting people, and probably a lot of us were. He was right." He adored his father and hated his mother, who he later wrote taught him "The fatality of hatred … She is my disease, an invitation to my sick room," and described her as "hypocritical, self-absorbed, calculating and indifferent."

Thomas died in 1941, leaving the young boy an insurance settlement which he used to finance a private education at Belmont College, a minor public school in Devon. He entered the school in 1943, but was expelled in the summer term of 1945, after whacking the headmaster, who had struck him for listening to a forbidden broadcast by Frank Sinatra. School Certificate was the only formal qualification he acquired, but he possessed a native intelligence.
This page is based on the copyrighted Wikipedia John Osborne; it is used under the Creative Commons Attribution-ShareAlike 3.0 Unported License. You may redistribute it, verbatim or modified, providing that you comply with the terms of the CC-BY-SA.
My Father
My father lived a simple life
But he was a man apart
With gentle ways and humble mind
And an understanding heart

He loved and cared for people
Helping those in need.
He strove to make folk happy
For kindness was his creed.