John Perreault
Biography of John Perreault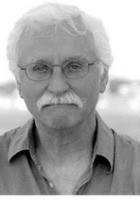 John Perrault is a lawyer, teacher, poet, and balladeer. Over the years he has performed his songs and poems in numerous venues throughout New England, including The New England Folk Festival, The Maine Festival, The Prescott Park Arts Festival, Chautauqua, Writers' Day for the New Hampshire Writers' Project, The Maine Writers Conference, The Seacoast Writers Conference, Passim, The Stone Church, and countless libraries, schools and coffee houses. He is the author of Jefferson's Dream, The Ballad of Louis Wagner and other New England Stories in Verse, and Here Comes the Old Man Now. He was poet laureate of Portsmouth, NH, 2003 - 2005.

John Perreault's Works:

The Ballad of Louis Wagner and other New England Stories in Verse (2003)
Here Comes the Old Man Now (2005)
Jefferson's Dream (forthcoming)
This page is based on the copyrighted Wikipedia John Perreault; it is used under the Creative Commons Attribution-ShareAlike 3.0 Unported License. You may redistribute it, verbatim or modified, providing that you comply with the terms of the CC-BY-SA.
John Perreault Poems
Shoe
A road can't be as sad as a shoe is sad when a shoe can't read. I can't read either.
Boomerang
Why is everything I do in my life like a boomerang? I throw the paper airplane out the window and the wind sends it back. I spit against the wind.
After Silence
After science, we have perfumes of various sorts.
Readymade
The Venus Fly Trap (1) A Beautiful Plant!
The Ballad Of The Squalus
I ran into an old time sailor, up on Market Street; We had a cup of coffee, his last name was McLees; He fought in the Pacific, on Portsmouth submarines; I asked about the Squalus, this is what he told me.
The Metaphysical Paintings
1. The Enigma of Arrival We are nude beneath our costumes as in the false myths we have been forced
The Ballad Of Louis Wagner
The fog peers in the windows, passes 'neath the lamps Settles in the doorways and huddles from the damp Slips inside the houses, rooms, the sleeper's bed and dreams It rolls him over, turns him out into the shrouded street.
All poems of John Perreault »
Share your comments »
After Silence
After science,
we have
perfumes of
various sorts.
And then the
month,
I don't know
why,