John Wilbye
John Wilbye
(7 March 1574 - September 1638 / Brome, Suffolk)
Biography of John Wilbye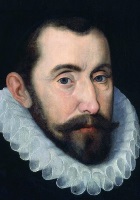 John Wilbye, was an English madrigal composer.

Life

The son of a tanner, he was born at Brome, Suffolk, near Diss, and received the patronage of the Cornwallis family. It is thought that he accompanied Elizabeth Cornwallis to Hengrave Hall near Bury St. Edmunds circa 1594 when she married Sir Thomas Kytson the Younger.

A set of madrigals by him appeared in 1598 and a second in 1608, the two sets containing sixty-four pieces. In 1600, he was chosen to proofread John Dowland's Second Booke of Songs. In 1628, on the death of Elizabeth Cornwallis, Wilbye went to live with her daughter Mary Darcy, Countess Rivers in Colchester, where he died. He is buried in the graveyard of Holy Trinity Church, in Colchester town centre. (The building is currently the CO1 cafe and young Christian centre.)

Wilbye is probably the most famous of all the English madrigalists; his pieces have long been favourites and are often included in modern collections. His madrigals include Weep, weep o mine eyes and Draw on, sweet night. He also wrote the poem, Love me not for comely grace. His style is characterized by delicate writing for the voice, acute sensitivity to the text and the use of "false relations" between the major and minor modes.
This page is based on the copyrighted Wikipedia John Wilbye; it is used under the Creative Commons Attribution-ShareAlike 3.0 Unported License. You may redistribute it, verbatim or modified, providing that you comply with the terms of the CC-BY-SA.
As Matchless Beauty
As matchless beauty thee a Phoenix proves,
Fair Leonilla, so thy sour-sweet loves.
For when young Acon's eye thy proud heart tames,
Thou diest in him, and livest in my flames.