Jolomi Amuka
Jolomi Amuka
(Lagos)
Biography of Jolomi Amuka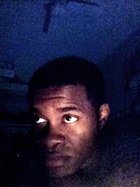 I was born,
I cried,
I laughed,
I grew,
I schooled,
I suffered,
I traveled;
To act, and sing,
To dance and speak.
To love,
To write and re-write my play.
To inspire a young mind, just for a day.
For someday, when time presses play,
And the movie reel begins its clockwise rotation.
I will know that I had directed the Feth out of this picture, called life.
Note To Self
I found your earring on my bedroom floor,
The only thing that proves you were once here before;
It's funny how absterging it has become my favorite chore.
I don't just think of you anymore,
It's more like reenacted vagary scenes from our lives.
12 shots of Jameson should take me there,
Beyond fear.
More drunk than Keith moon,
I'll see you soon, very soon, you said.