Jolomi Amuka
Jolomi Amuka
(Lagos)
Biography of Jolomi Amuka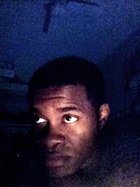 I was born,
I cried,
I laughed,
I grew,
I schooled,
I suffered,
I traveled;
To act, and sing,
To dance and speak.
To love,
To write and re-write my play.
To inspire a young mind, just for a day.
For someday, when time presses play,
And the movie reel begins its clockwise rotation.
I will know that I had directed the Feth out of this picture, called life.
Nothing To Say
Too much weed, No alcohol,
Too many skunks in my back yard,
They smoke dreams, buy fancy cars,
Pilfering self-esteem to lose who you are.
Hollywood dark, no stars in sight,
Shots of rain, on my brick wall,
No weak spots, just a big fall.
On empty streets we find who we are,
We rise to fall, to rise and fall,