Jonathan Galassi
Biography of Jonathan Galassi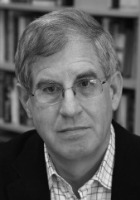 Jonathan Galassi was born in Seattle, Washington, is the President and Publisher of Farrar, Straus and Giroux, one of the eight major publishers in New York. He began his publishing career at Houghton Mifflin in Boston, moved to Random House in New York, and finally, to Farrar, Straus & Giroux. He joined FSG as executive editor in 1985, after being fired from Random House. Two years later, he was named editor-in-chief, and is now President and Publisher.

Galassi is also a translator of poetry and a poet himself. He has translated and published the poetic works of the Italian poets Giacomo Leopardi and Eugenio Montale. His honors as a poet include a 1989 Guggenheim Fellowship, and his activities include having been poetry editor for The Paris Review for ten years, and being an honorary chairman of the Academy of American Poets. He has published poems in literary journals and magazines including Threepenny Review, The New Yorker, The Nation and the Poetry Foundation website.

Galassi graduated from Phillips Exeter Academy where he became interested in poetry, writing and literature, and from Harvard College in 1971. He was a Marshall Scholar at Christ's College, Cambridge. He realized while attending Christ's College that he wanted a career in book publishing. Galassi was born in Seattle (his father worked as an attorney for the Justice Department), but he grew up in Plympton, Massachusetts. He lives in Brooklyn and is married to Susan Grace, and they have two daughters.

Jonathan Galassi's Works:

Full-Length Poetry Collections

North Street: Poems (HarperCollins Publishers, 2000)
Morning Run: Poems (Paris Review Editions/British American Pub., 1988)
Translations

Selected Poems of Eugenio Montale (translated by Jonathan Galassi, Charles Wright, and David Young; edited with an introduction by David Young; Oberlin College Press, 2004)
A Boy Named Giotto by Paolo Guarnieri (pictures by Bimba Landmann; Farrar, Straus & Giroux, 1999)
Collected poems, 1920-1954: Eugenio Montale (Farrar, Strauss & Giroux, 1998)
Otherwise: Last and First Poems of Eugenio Montale (Vintage Books, 1984)
The Second Life of Art: Selected Essays of Eugenio Montale (Ecco Press, 1982)
This page is based on the copyrighted Wikipedia Jonathan Galassi; it is used under the Creative Commons Attribution-ShareAlike 3.0 Unported License. You may redistribute it, verbatim or modified, providing that you comply with the terms of the CC-BY-SA.
Montale's Grave
Now that the ticket to eternity
has your name on it, we are here to pay
the awkward tribute post-modernity
allows to those who think they think your way

but hear you only faintly, filtered through
a gauze of echoes, sounding in a voice
that could be counterfeit; and yet the noise
seems to expand our notion of the true.