Jorie Graham
Biography of Jorie Graham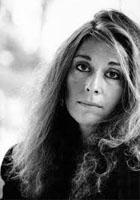 Jorie Graham was born in New York City on May 9, 1950, the daughter of a journalist and a sculptor. She was raised in Rome, Italy and educated in French schools. She studied philosophy at the Sorbonne in Paris before attending New York University as an undergraduate, where she studied filmmaking. She received an MFA in poetry from the University of Iowa.

Graham is the author of numerous collections of poetry, most recently From the New World: Poems 1976-2014 (Ecco, 2015); Place: New Poems (Ecco, 2012); Sea Change (Ecco, 2008); Never (2002); Swarm (2000); and The Dream of the Unified Field: Selected Poems 1974-1994, which won the 1996 Pulitzer Prize for Poetry.

About her work, James Longenbach wrote in the New York Times: "For 30 years Jorie Graham has engaged the whole human contraption — intellectual, global, domestic, apocalyptic — rather than the narrow emotional slice of it most often reserved for poems. She thinks of the poet not as a recorder but as a constructor of experience. Like Rilke or Yeats, she imagines the hermetic poet as a public figure, someone who addresses the most urgent philosophical and political issues of the time simply by writing poems."

Graham has also edited two anthologies, Earth Took of Earth: 100 Great Poems of the English Language (1996) and The Best American Poetry 1990.

Her many honors include a John D. and Catherine T. MacArthur Fellowship and the Morton Dauwen Zabel Award from The American Academy and Institute of Arts and Letters.

She has taught at the University of Iowa Writers' Workshop and is currently the Boylston Professor of Rhetoric and Oratory at Harvard University. She served as a Chancellor of the Academy of American Poets from 1997 to 2003.
To A Friend Going Blind
Today, because I couldn't find the shortcut through,
I had to walk this town's entire inner
perimeter to find
where the medieval walls break open
in an eighteenth century
arch. The yellow valley flickered on and off
through cracks and the gaps
for guns. Bruna is teaching me
to cut a pattern.