Joseph B. Isaac
Joseph B. Isaac
(1981 / Alleppey, Kerala, India)
Biography of Joseph B. Isaac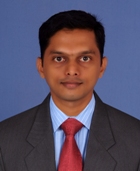 For a pilgrim, an unfaithful friend and unfitting shoe are alike.
----
'Little Birdie' is a beautiful song. I shall share it with you, because I don't have chocolates for you.

It's a song sung by birds of wood lands in a country side as they tweet while cradling their young ones. It is a story about a shepherd boy who lives in the mountains, who plays beautiful melodies on his panpipes while watching his sheep. His songs are so famous even in the distant valleys, its enchanting melodies wake up the dawn; brooks and lilies dance at once, as the sound of his flute graze with the sheep.

Would you like to hear that song?

There in the mountains the boy lives in a Paperboat. Yes, in a Paperboat that he made with his own hand. Owls that perch on the cliffs of the Canyon tell many tales of the brave boy, how he rapidly twists and tumbles through the gorges on his Paperboat. The boy has such incredible abilities that he can raw his boat with just one hand. But the story they say that the boy once jumped over a waterfall to save a young girl seems to be a little exaggerated. That doesn't matter, cause everyone loves the boy so they love the stories about him too.

Sometimes the boy flies kite with his songs written on it, then he snaps the twine and let the kite go. Gentle Butterflies in the wood lands now gossip that the boy has a secret friend on the other side of the mountain, and the kites are secret ways to write letters to her. They say that the boy makes magnificent kites but at times he also makes Dragon kites, just to scare her.

Would you like to see those kites that the boy makes?

Basically I am an artist in various mediums. I am specialized in creating 3d characters for animation movies.I also write articles, poems, short stories. I love photography.
Slaves Of The Night
All the infants sold tonight,
Are asked to stand in a line;
Snow is falling, wind is blowing;
They keep on marching to keep them warm.

Black or white, cannot be said,
From head to toe they are covered in blood;
Their heads are drilled, eyes are holed;
They keep on marching to keep them warm.