Joseph Blanco White
Biography of Joseph Blanco White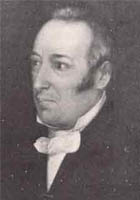 Born in Seville. A Catholic priest, he came to England in 1810 following Napoleon's conquest of Spain and took on the surname White.

Studying at Oxford, he became an Anglican cleric and wrote various ecclesiastical poetry. To Night was described by Samuel Taylor Coleridge as 'the finest sonnet in the English language'.

Blanco White's last 6 years were spent in Liverpool where he was a member of the city's Unitarian Church. He was buried in the Renshaw Street chapels cemetery, which is now the site of the Roscoe Memorial Gardens in Mount Pleasant.
This page is based on the copyrighted Wikipedia Joseph Blanco White; it is used under the Creative Commons Attribution-ShareAlike 3.0 Unported License. You may redistribute it, verbatim or modified, providing that you comply with the terms of the CC-BY-SA.
To Night
Mysterious Night! when our first parent knew
Thee from report divine, and heard thy name,
Did he not tremble for this lovely frame,
This glorious canopy of light and blue?
Yet 'neath a curtain of translucent dew,
Bathed in the rays of the great setting flame,
Hesperus with the host of heaven came,
And lo! Creation widened in man's view.
Who could have thought such darkness lay concealed