Joseph Furphy
Biography of Joseph Furphy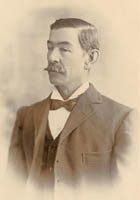 Joseph Furphy was born at Yering in the upper valley, Victoria, the son of Protestant Irish bounty emigrants who arrived in Australia in 1841. It was Joseph's older brother, John, who invented the Furphy water-cart, which was the means the expression 'furphy' came into Australian English.) Joseph Furphy gained his education at a small school in Kyneton, and subsequently worked on his father's farm before trying his luck on the goldfields. He was then employed as a threshing machine operator in the Daylesford district. Joseph married Leonie Germaine, a French girl, in 1867, and worked her mother's vineyard and farm. In 1868 he acquired a selection in the Lake Cooper district, but was unsuccessful and after five years left the farm to find work on the goldfields and as a labourer. He then moved his family to the Riverina in NSW and became a bullocky with his own team in 1877. Furphy carted wool and various other goods from his base in Hay along the Murray and to northern stations. It was not an easy life for him or his family and after the 1883 drought, which practically decimated his team, he went to work in his brother's foundry in Shepparton, Victoria. With the security of a weekly wage he had time to write and in 1889 he submitted essays and short stories to the Bulletin under the pseudonym 'Warrigal Jack'; From 1893 he became 'Tom Collins'. In 1897 he concluded a novel of 1125 pages and sent it to the editor of the Bulletin, J.F. Archibald. Archibald's literary editor, A.G. Stephens suggested revisions and the book was finally published in 1903. Furphy used the excised sections of his novels to compose two more books. However, due to the slow sales of Such is Life, neither was published during his life. In 1905 Furphy moved to WA to join his sons who had set up an iron foundry. He died there in 1912. Furphy is regarded as one of the most substantial of pre-First World War Australian fiction writers.
This page is based on the copyrighted Wikipedia Joseph Furphy; it is used under the Creative Commons Attribution-ShareAlike 3.0 Unported License. You may redistribute it, verbatim or modified, providing that you comply with the terms of the CC-BY-SA.
A Psalm Of Patience
O kid! with face of healthy tan,
With lunch-bag, books and slate;
You needn't long to be a man,
Self-confident and great;
For ever since the world began
Each boy must spring to Nature's plan,
Must worry through as best he can —
Make up your mind to Wait.