Joseph Heller
Biography of Joseph Heller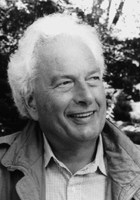 Joseph Heller (May 1, 1923 – December 12, 1999) was an American satirical novelist, short story writer, and playwright. The title of one of his works, Catch-22, entered the English lexicon to refer to absurd, no-win choices, particularly in situations in which the desired outcome of the choice is an impossibility, and regardless of choice, the same negative outcome is a certainty. Although he is remembered primarily for Catch-22, his other works center on the lives of various members of the middle class and remain exemplars of modern satire.

Joseph Heller was born in Coney Island in Brooklyn, New York, the son of poor Jewish parents, Lena and Isaac Donald Heller, from Russia. Even as a child, he loved to write; as a teenager, he wrote a story about the Russian invasion of Finland and sent it to New York Daily News, which rejected it. At least one scholar suggests that he knew that he wanted to become a writer, after recalling that he received a children's version of the Iliad when he was ten. After graduating from Abraham Lincoln High School in 1941, Heller spent the next year working as a blacksmith's apprentice, a messenger boy, and a filing clerk. In 1942, at age 19, he joined the U.S. Army Air Corps. Two years later he was sent to the Italian Front, where he flew 60 combat missions as a B-25 bombardier. His Unit was the 488th Bombardment Squadron, 340th Bomb Group, 12th Air Force. Heller later remembered the war as "fun in the beginning... You got the feeling that there was something glorious about it." On his return home he "felt like a hero... People think it quite remarkable that I was in combat in an airplane and I flew sixty missions even though I tell them that the missions were largely milk runs." ("Milk Runs" were combat missions, but mostly uneventful due to a lack of intense opposition from enemy anti-aircraft artillery or fighters.)

After the war, Heller studied English at the University of Southern California and NYU on the G.I. Bill. In 1949, he received his M.A. in English from Columbia University. Following his graduation, he spent a year as a Fulbright scholar at St. Catherine's College in Oxford University. After returning home, he taught composition at The Pennsylvania State University for two years. He also taught fiction and dramatic writing at Yale. He then briefly worked for Time, Inc., before taking a job as a copywriter at a small advertising agency, where he worked alongside future novelist Mary Higgins Clark. At home, Heller wrote. He was first published in 1948, when The Atlantic ran one of his short stories. That first story nearly won the "Atlantic First."

He was married to Shirley Held from 1945–1981 and they had two children, Erica (born 1952) and Ted (born 1956).