Joseph Howe
Joseph Howe
(13 December 1804 – 1 June 1873 / Nova Scotia)
Biography of Joseph Howe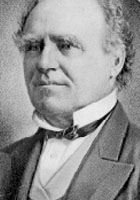 Joseph Howe, (December 13, 1804 – June 1, 1873) was a Nova Scotian journalist, politician, and public servant. He is one of Nova Scotia's greatest and best-loved politicians. His considerable skills as a journalist and writer have made him a Nova Scotia legend.

He was born the son of John Howe and Mary Edes at Halifax and inherited from his loyalist father an undying love for Great Britain and her Empire. At age 23, the self-taught but widely-read Howe purchased the Novascotian, soon making it into a popular and influential newspaper. He reported extensively on debates in the Nova Scotia House of Assembly and travelled to every part of the province writing about its geography and people. In 1835, Howe was charged with seditious libel, a serious criminal offence, after the Novascotian published a letter attacking Halifax politicians and police for pocketing public money. Howe addressed the jury for more than six hours, citing example after example of civic corruption. The judge called for Howe's conviction, but swayed by his passionate address, jurors acquitted him in what is considered a landmark case in the struggle for a free press in Canada.

The next year, Howe was elected to the assembly as a liberal reformer, beginning a long and eventful public career. He was instrumental in helping Nova Scotia become the first British colony to win responsible government in 1848. He served as premier of Nova Scotia from 1860 to 1863 and led the unsuccessful fight against Canadian Confederation from 1866 to 1868. Having failed to persuade the British to repeal Confederation, Howe joined the federal cabinet of John A. Macdonald in 1869 and played a major role in bringing Manitoba into the union. Howe became the third Lieutenant Governor of Nova Scotia in 1873, but died after only three weeks in office.The Howe family was of Puritan stock from Massachusetts. Having remained loyal to the crown during the American Revolution, the family of John Howe joined the flood of United Empire Loyalists out of the United States after the American revolutionaries succeeded in their claims of independence. On arrival at Halifax, John Howe was rewarded for his loyalty by appointment as Postmaster-General. Since he was in the printing business, John Howe was appointed also the King's Printer. Joseph Howe was born at Halifax, Nova Scotia, the son of John Howe & Mary Edes. His son, Joseph Howe, like many lads of that time, received only a limited formal education before beginning an apprenticeship at the age of 13. He served his apprenticeship at the printing shop that the senior Howe had established in 1781. They published a newspaper, the Halifax Journal. He married Catherine Ann Susan McNab on February 2, 1828.


Billboard displayed on the ChronicleHerald building in downtown Halifax. Howe once edited the Chronicle. That same year he went into the printing business himself with the purchase of the Novascotian, a Halifax newspaper. Howe acted as its editor until 1841, turning the paper into the most influential in the province. Not only did he personally report the legislative assembly debates in its columns, he also published provincial literature and his own travel writings, using the paper as a means for educating the people of Nova Scotia, and himself.
This page is based on the copyrighted Wikipedia Joseph Howe; it is used under the Creative Commons Attribution-ShareAlike 3.0 Unported License. You may redistribute it, verbatim or modified, providing that you comply with the terms of the CC-BY-SA.
Joseph Howe Poems
Once More I Put My Bonnet On
Once more I put my bonnet on, And tie the ribbons blue, My showy poplin dress I don, That's just as good as new,
To The Town Clock
Thou grave old Time Piece, many a time and oft I've been your debtor for the time of day; And every time I cast my eyes aloft, And swell the debt--I think 'tis time to pay.
Sable Island
Dark Isle of Mourning--aptly art thou named, For thou hast been the cause of many a tear; For deeds of treacherous strife too justly famed, The Atlantic's charnel--desolate and drear;
All poems of Joseph Howe »
Share your comments »
Sable Island
Dark Isle of Mourning--aptly art thou named,
For thou hast been the cause of many a tear;
For deeds of treacherous strife too justly famed,
The Atlantic's charnel--desolate and drear;
A thing none love--though wand'ring thousands fear--
If for a moment rests the Muse's wing
Where through the waves thy sandy wastes appear,
'Tis that she may one strain of horror sing,
Wild as the dashing waves that tempests o'er thee fling.