Josephine Miles
Biography of Josephine Miles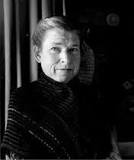 Josephine Miles (June 11, 1911 – May 12, 1985) was an American poet and literary critic; the first woman to be tenured in the English Department at the University of California, Berkeley. She wrote over a dozen books of poetry and several works of criticism.

Born in Chicago in 1911, her family moved when she was young to Southern California. Due to a disabling arthritis, she was educated at home by tutors, but was able to graduate from Los Angeles High School in a class which included the composer John Cage.

Miles attended the University of California, Los Angeles, where she earned a bachelor's degree in English literature before moving to the University of California, Berkeley to pursue her doctorate. She remained in Berkeley for the rest of her life, receiving many highly-coveted fellowships and awards until her death in May 1985. She was the first woman to receive tenure in the English Department at Berkeley and, at the time of her death, held the position of University Professor, one of the rarest and most prestigious honors in academic life.

She was fascinated with Beat poetry and was both a host and critic to many Beat poets from her chair at Berkeley. Most notably, she helped Allen Ginsberg publish Howl by recommending it to Richard Eberhart, who would publish an article in the New York Times praising the poem. She was also the founder of the internationally distributed Berkeley Poetry Review in 1974 on the U.C. Berkeley campus. Miles was a mentor to many young poets, including Jack Spicer, Robin Blaser, Diane Wakoski, Diana O'Hehir, William Stafford, and A. R. Ammons.

In reference to her lifelong disability, Thom Gunn recollected that "The unavoidable first fact about Josephine Miles was physical. As a young child she contracted a form of degenerative arthritis so severe that it left her limbs deformed and crippled. As a result, she could not be left alone in a house, she could not handle a mug...she could not use a typewriter; and she could neither walk nor operate a wheelchair." Miles bequethed her Berkeley home to the University of California, which offers the house for use by the visiting Roberta C. Holloway Lecturer in the Practice of Poetry.

The PEN Oakland/Josephine Miles Literary Award was established in her honor to recognize achievement in multicultural literature.
Family
When you swim in the surf off Seal Rocks, and your family
Sits in the sand
Eating potato salad, and the undertow
Comes which takes you out away down
To loss of breath loss of play and the power of play
Holler, say
Help, help, help. Hello, they will say,
Come back here for some potato salad.