Josephine Preston Peabody
Biography of Josephine Preston Peabody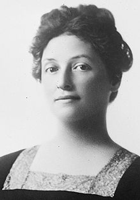 Josephine Preston Peabody (1874 - December 4, 1922) was an American poet and dramatist. She was born in New York and educated at the Girls' Latin School, Boston, and at Radcliffe College.

From 1901 to 1903 she was instructor in English at Wellesley. In 1906 she married Prof. L. S. Marks from Harvard University. The Stratford-on-Avon prize went to her in 1909 for her drama The Piper, which was produced in England in 1910; and in America at the New Theatre, New York City, in 1911.

Her other work includes The Wayfarers: A Book of Verse (1898); Fortune and Men's Eyes: New Poems, with a Play (1900); The Wings (1905), a drama; The Book of the Little Past (1908); The Singing Man (1911), poems; The Wolf of Gubbio (1913), and a drama, New Poems (1915).
The Nightingale Unheard
Yes, Nightingale, through all the summer-time
We followed on, from moon to golden moon;
From where Salerno day-dreams in the noon,
And the far rose of Paestum once did climb.
All the white way beside the girdling blue,
Through sun-shrill vines and campanile chime,
We listened; -- from the old year to the new.
Brown bird, and where were you?