Joshua Beckman
Biography of Joshua Beckman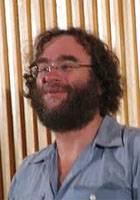 Joshua Beckman is an American poet.

He was born in New Haven, Connecticut. He graduated from Hampshire College.

He is the author of six collections of poetry, including Take It, Shake, and Things Are Happening, which won the first annual Honickman-APR book award. He is also the author of two collaborations with New York–based poet Matthew Rohrer, including Nice Hat. Thanks. During his residency at Women's Studio Workshop, in 1997 he published There Is an Ocean, a combination of six prose poem/narratives about young men's encounters with bodies of water, portraying the tension inherent in youth (especially among young gay men). He is an editor at Wave Books and has translated numerous works of poetry and prose, including Poker by Tomaž Šalamun, which was a finalist for the PEN America Poetry in Translation Award, as well as multiple co-translations with Alejandro de Acosta.

He is also the recipient of numerous other awards, including a NYFA fellowship and a Pushcart Prize. He lives in Seattle and New York. A graduate of Hampshire College in Amherst, Massachusetts, Beckman was the editor of the short-lived literary magazine, Object Lesson, which served as inspiration for subsequent literary and artistic publishing ventures.
Oh, atlas
Oh, atlas
look
you forgot my island.