Joshua Clover
Biography of Joshua Clover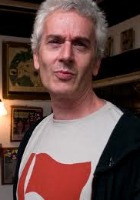 Joshua Clover (born December 30, 1962 in Berkeley, California) is a poet, critic, journalist and author. He has appeared in three editions of Best American Poetry and is a two-time winner of the Pushcart Prize, and recipient of an individual grant from the NEA; his first book of poetry, Madonna anno domini, received the Walt Whitman Award from the Academy of American Poets.

A graduate of Boston University and the Iowa Writer's Workshop MFA program, Clover is a Professor of English Literature and Critical Theory at the University of California, Davis, and was the distinguished Holloway poet-in-residence at the University of California, Berkeley in 2002-2003.

He writes a column of film criticism for Film Quarterly, under the title "Marx and Coca-Cola," is a former senior writer and editor at the Village Voice, writes for The New York Times, The Nation, and the Los Angeles Review of Books, and is a former senior writer for Spin. His film criticism includes a book on The Matrix for the British Film Institute, and the Criterion Collection essays for Band of Outsiders and Straw Dogs'.' Under the pseudonym "Jane Dark", Clover has written a number of film and music reviews for The Village Voice.

Clover is also a political activist. At UC Davis, along with eleven students, he engaged in a sit-in to protest the campus's financial arrangements with U.S. Bank. Clover and the eleven students, known as the "Davis Dozen," were each charged with 20 counts of obstructing movement in a public place and one count of conspiracy. All have been subsequently acquitted.

Clover's given name at birth was Joshua Miller Kaplan but via legal change he took his mother's maiden name. His mother, Carol J. Clover, is the originator of the final girl theory in a book on horror films and a professor emerita at the University of California at Berkeley.
The Map Room
We moved into a house with 6 rooms: the Bedroom,
the Map Room, the Vegas Room, Cities
in the Flood Plains, the West, & the Room Which Contains All
of Mexico.We honeymooned in the Vegas Room where
lounge acts wasted our precious time.Then there was the junta's
high command, sick dogs of the Map Room, heel-
prints everywhere, pushing model armies into the unfurnished
West.At night: stories of their abandoned homes in the Cities
in the Flood Plains, how they had loved each other