Joshua Fernandez
Joshua Fernandez
(April 19,1974 / Kuala Lumpur)
Biography of Joshua Fernandez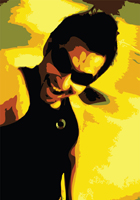 Joshua Fernandez is a Malaysian film director, creative director and all round family entertainer.; p
Clock On The Wall
Clarity and Focus drives you to a Vision,
A vision propelled purely by passion...
Clarity and Focus will drive your Vision,
Only when you began to listen...

Invest your time, spend less of it,
cause you simply can't afford it.
Once spent, this time have you,
gone will it be, somewhere in history.