Juan del Encina
Biography of Juan del Encina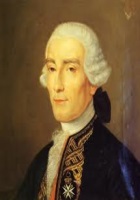 Juan del Encina (born July 12, 1468 – died late 1529 or early 1530). His actual name was Juan de Fermoselle, and was one of at least 7 known children. Fermoselle was a composer, poet and playwright, often called the founder of Spanish drama.

In 1492 the poet entertained his patron with a dramatic piece, the Triunfo de la fama, written to commemorate the fall of Granada. In 1496 he published his Cancionero, a collection of dramatic and lyrical poems. He then applied for the canto post at Salamanca Cathedral, but the part was divided among three singers, including his rival Lucas Fernandez.

While working for the Duke of Alba, Encina was the program director, of which Lucas Fernandez was a part of. Here Encina wrote pastoral eclogues, the foundation of Spanish secular drama. Encina's plays are predominantly based on shepherds and unrequited love.

Encina was ambitious, looking to be promoted based on preferment, so around 1500 he relocated to Rome, where he apparently served in the musical establishments of several cardinals or noblemen. Encina was appointed Archdiaconate of Malaga Cathedral by Julius II in 1508.

In 1518 he resigned from position at Malaga for a simple benefice at Moron, and the following year he went to Jerusalem, where he sung his first mass. He also wrote about the events during his pilgrimage to Jerusalem in Tribagia o Via Sacra de Hierusalem. In 1509 he had held a lay canonry at Málaga; in 1519 he was appointed by Leon for the priorship of Leon Cathedral. His last job was recorded as being in Leon, where he is thought to have died towards the end of 1529.

His Cancionero is preceded by a prose treatise (Arte de trobar) on the condition of the poetic art in Spain. His fourteen dramatic pieces mark the transition from the purely ecclesiastical to the secular stage. The Aucto del Repelón and the Égloga de Fileno dramatize the adventures of shepherds; the latter, like Pládcida y Vitoriano, is strongly influenced by the Celestina. The intrinsic interest of Encina's plays is slight, but they are important from the historical point of view, for the lay pieces form a new departure, and the devout eclogues prepare the way for the autos of the 17th century. Moreover, Encina's lyrical poems are remarkable for their intense sincerity and devout grace.

Even though his works were dedicated to royal families, he never served as a member of a royal chapel. And even though Encina worked in many Cathedrals and was ordained as a priest, no religious musical works are known to still exist. Most of his works were done by his mid-30's, some 60 or more songs attributed to Encina, and another 9 settings of texts on top of that, to which the music could also be added, but not for certain. Many of the surviving pieces are villancicos, which he was a leading composer in. The Spanish villancico is the equivalent of the Italian Frottola. There are three and four voice settings that offer a variety of styles depending on the kind of text, with very limited movements in the voices in preparation for the cadence points.To make the text heard clearly, Encina used varied and flexible rhythms that are patterned on the accents of the verse, and used simple yet strong harmonic progressions.

Juan del Encina's Works:

Triunfo de la fama (1492)
Cancionero (1496)
Tan buen ganadico (1496)
Más vale trocar (1496)
Triste España sin ventura (1504)
Plácida y Victoriano (1513)
Églogas
Oy comamos y bebamos (late 1400s)
Tribagia o Via Sacra de Hierusalem (1521)
This page is based on the copyrighted Wikipedia Juan del Encina; it is used under the Creative Commons Attribution-ShareAlike 3.0 Unported License. You may redistribute it, verbatim or modified, providing that you comply with the terms of the CC-BY-SA.
Juan del Encina Poems
No te tardes que me muero,
carcelero,
no te tardes que me muero.
Romerico, tú que vienes
De donde mi vida está,
Las nuevas de ella me da,
Dame nuevas de mi vida
Yo me estava reposando,
durmiendo como solía.
Recordé, triste, llorando
con gran pena que sentía.
Romance
Yo me estava reposando,
durmiendo como solía.
Recordé, triste, llorando
con gran pena que sentía.
Levantéme muy sin tiento
de la cama en que dormía,
cercado de pensamiento,
que valer no me podía.
Mi passión era tan fuerte