Juan Olivarez
Juan Olivarez
(september 12 / nyssa oregon)
Biography of Juan Olivarez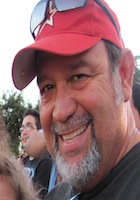 I was born in Nyssa Oregon while my parents who were farm workers were picking cherries and working in the potato fields in Idaho.I grew up in Mission Texas and attended Mission High scool where I first attempted to write poetry. While in high school I had two poems published in Focus magazine, 'What is War in 1972' and The Clouds' IN 1973. I have been in public service in my home town of Alton Texas as city alderman, police commissioner and mayor pro tem, I love to play chess, play the guitar, cook and my other true love, fishing. My first love has and always will be my wife Elvira McAllen who against her better judgement decided to say yes when I asked her to marry me in 1973. We have six children Two marines two musicians a teacher an my youngest who still is undecided on what to do with his life he is currently goofing off in California in the place I love so much The Mojave Desert. I lived in California for a year and fell in love with the Mojave Desert that surrounded my sons home in Twenty Nine Palms, and I wrote a lot of poems about the desert, they are all my favorites, because they are all actual experiances. My favorite words are not from a poet they are from a band named named Diamond Rio, (one more day, one more time, one more sunset baby and I'd be satisfied) I love anything country. Recently I had a scare with my heart, and I realized life is so short. So I will try my hand at a few more things, including free verse and some haiku.

Juan Olivarez's Works:

I have had two poems published in Focus magazine. The first one was 'What Is War, ' in 1972 and 'The Clouds' in 1973.
New Poems
Those That Lie
whistle as you walk by
don't be afraid of those that lie
inside these iron gates
we are at peace on high

we cannot chase
Or reach for you.
Things that you can
We cannot do.

Don't be afraid,
Of those that lie.
Just pray for us,
As you pass by.

3/5/2005