Judith Beveridge
Biography of Judith Beveridge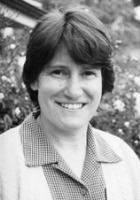 Judith Beveridge (born 1956) is a contemporary Australian poet, editor and academic.

Judith Beveridge was born in London, England, arriving in Australia with her parents in 1960. Completing a BA at UTS she has worked in libraries, teaching, as a researcher and in environmental regeneration. She currently teaches creative writing at Newcastle and Sydney universities and is poetry editor for Meanjin, having previously edited Hobo and the Australian Arabic literature journal Kalimat.

Judith Beveridge's Works:

The Domesticity of Giraffes, (Black Lightning, 1987)
A parachute of blue : first choice of Australian poets. Number one, with Jill Jones & Louise Katherine Wakeling (Round Table Publications, 1995)
Accidental Grace, (UQP, 1996)
How to Love Bats, and Other Poems (Picaro Press, 2001)OCLC: 57312733
Wolf Notes, (Giramondo, 2003)
Storm and Honey, (Giramondo, 2009)
The Best Australian Poetry 2006, with Martin Duwell & Bronwyn Lea (UQP, 2006)
This page is based on the copyrighted Wikipedia Judith Beveridge; it is used under the Creative Commons Attribution-ShareAlike 3.0 Unported License. You may redistribute it, verbatim or modified, providing that you comply with the terms of the CC-BY-SA.
Bahadour
The sun stamps his shadow on the wall
and he's left one wheel of his bicycle
spinning. It is dusk, there are a few minutes

before he must pedal his wares through
the streets again. But now, nothing
is more important than this kite working

its way into the wobbly winter sky.