Jules Supervielle
Biography of Jules Supervielle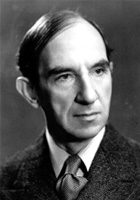 Jules Supervielle was born in 1884 in Uruguay. His life was divided between Montevideo, where he was born, and Paris, where he was educated.

The freshness and originality of his works are often attributed to his South American background. His stories treat grand subjects with everyday simplicity, making much use of fantasy, allegory, and myth.
This page is based on the copyrighted Wikipedia Jules Supervielle; it is used under the Creative Commons Attribution-ShareAlike 3.0 Unported License. You may redistribute it, verbatim or modified, providing that you comply with the terms of the CC-BY-SA.
Fish
Fish with your slow memories in deep creeks,
what can I do here with these? I know nothing
of you, except a little foam and shadow
and that one day, like me, you will die.

So why do you come to question my dreams
as if I could somehow be of use to you?
Go back to the sea, leave me on my dry earth.
We were not made to mix our days.