Julia Caroline (Ripley) Dorr
Biography of Julia Caroline (Ripley) Dorr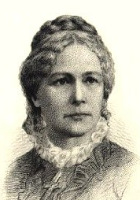 Julia Caroline (Ripley) Dorr (1825–1913) was an American author who published both prose and poetry. She was born at Charleston, South Carolina, but moved early in her life to New York City, then to Rutland, Vermont. There she married Hon. Seneca R. Dorr. Her earliest published writings appeared in 1848.

Julia Caroline (Ripley) Dorr's Works:

* Isabel Leslie (1848)
* Farmingdale (1854)
* Lanmere (1856)
* Sybil Huntingdon (1869)
* Expiation (1872)
* Bermuda (1884)
* The Flower of England's Face (1895)
* A Cathedral Pilgrimage (1896)
* In King's Houses (1898)
* Poems (1871)
* Friar Anselm and Other Poems (1879)
* Daybreak: An Easter Poem (1872)
* Afternoon Songs (1885)
* Afterglow (1900)
* Beyond the Sunset (1909)
* Last Poems (1913)
This page is based on the copyrighted Wikipedia Julia Caroline (Ripley) Dorr; it is used under the Creative Commons Attribution-ShareAlike 3.0 Unported License. You may redistribute it, verbatim or modified, providing that you comply with the terms of the CC-BY-SA.
Outgrown
Nay, you wrong her my friend, she's not fickle; her love she has simply outgrown:
One can read the whole matter, translating her heart by the light of one's own.

Can you bear me to talk with you frankly? There is much that my heart would say;
And you know we were children together, have quarrelled and 'made up' in play.

And so, for the sake of old friendship, I venture to tell you the truth,-
As plainly, perhaps, and as bluntly, as I might in our earlier youth.