Julian Tuwim
Biography of Julian Tuwim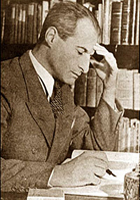 Julian Tuwim was a polish poet born in 1894. He was the leader of the Skamander group of experimental poets, he was also a major figure in his nation's literature. In his principal collection of poetry, Slowa we krwi [words bathed in blood] (1926), he wrote with fervor and violence of the emptiness of urban existence.

Tuwim spent his childhood and early school years in Lodz. Between 1916-1918 he studied law and philosophy in Warsaw. During that time he co-operated with various magazines and cabarets. During World War II he emigrated to Romania, France, Portugal, Brasil, and in 1942 to New York. There he wrote his major poem "Kwiaty Polskie" , in which he describes the time of his early childhood in Lodz. In June 1946 Tuwim returned to Poland. Between 1947-1950 he was the artistic director of Teatre Nowy in Lodz. He was awarded many times for his poetry, among them was the Literary Award of Lodz (1928, 1949), doctor honoris causa title by the University of Lodz (1949), Pen Club Award for translations from Puszkin (1935) and the national award (1951).

He died in 1953
This page is based on the copyrighted Wikipedia Julian Tuwim; it is used under the Creative Commons Attribution-ShareAlike 3.0 Unported License. You may redistribute it, verbatim or modified, providing that you comply with the terms of the CC-BY-SA.
Polish Flowers
A box with paints from childhood's time:
The colors of town are earth and grime.
An old worker at a dark doorway squats,
The spuds in his bowl are powdery dry.
It's a face of yellowish and gray spots
In the midst of hunger, cold, dirt and slime.