Julianna O'Bar
Biography of Julianna O'Bar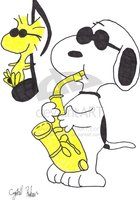 I've always loved poems; ever since I can remember at least. When I was younger, I was in love with Shel Silverstein's poem books, or anything like them. Now I've found that I'm attracted to poems that stir my emotions. Anything that makes me cry or laugh is a great poem in my opinion.

I began writing poems in 7th grade in English. I eventually learned to love it, and everyone told me that my poems were good. Most of my best poems seemed to be the ones I was assigned, but I gradually started writing on my own, and I became a poet. I started bringing notebooks into the car and in my bags and backpacks so many times that the backs kept breaking! I tried a few novels, but most of them didn't really work out. I'm working on one currently, and it looks like I may actually finish this one!

I've also had a fierce passion for music. I'm in the school girl's choir and marching/concert band. However, my writing talents have never transfered over to my music talents. For some reason, I could never make the right words come out when trying to write some lyrics, and I could never make the right notes come out when trying to make a melody. I guess my strong points are poetry and playing someone else's music.

And I really love Snoopy (if you couldn't tell already) !

I'm only an ameteur poet. I've got a lot to learn, so I'd appreciate any advice that you could give me (trust me, it's not going to kill me if you give me a polite suggestion (- ;) .

By the way, most of my poems are on my Tallenge.com profile. Please look me up and vote on them! Thank you!
What Is Misfortune?
Misfortune is…
A goal unaccomplished,
A challenge unmet,
A dream never realized.
Misfortune is disappointment.

Misfortune is…
A mother never there,
A father never known,