Julie Sheehan
Biography of Julie Sheehan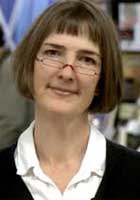 Julie Sheehan (born in Iowa) is an American poet.

She graduated from Yale University, and Columbia University.
She lives on Long Island, New York, with her son, and is currently Director of the MFA in Creative Writing & Literature program as well as an assistant professor at Stony Brook Southampton.
Chives
You chop an onion, bone a breast, cradle
an artichoke's dense, thorny crown, you pluck
a chicken, a leaf, an eyebrow peddling luck
with love, you set a table, you seat, you ladle
your soup, you chomp an apple, you agitate
the linens. You agitate for justice. You piece
on chocolate, awaiting calls. You grease
your skids. You rot. You rule. You fail. You rate.
A verb intransitive is a claptrap thing.