Julie Sheehan
Biography of Julie Sheehan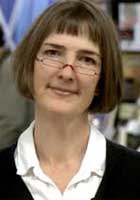 Julie Sheehan (born in Iowa) is an American poet.

She graduated from Yale University, and Columbia University.
She lives on Long Island, New York, with her son, and is currently Director of the MFA in Creative Writing & Literature program as well as an assistant professor at Stony Brook Southampton.
Hate Poem
I hate you truly. Truly I do.
Everything about me hates everything about you.
The flick of my wrist hates you.
The way I hold my pencil hates you.
The sound made by my tiniest bones were they trapped
in the jaws of a moray eel hates you.
Each corpuscle singing in its capillary hates you.

Look out! Fore! I hate you.