K. C. Kesava Pillai
Biography of K. C. Kesava Pillai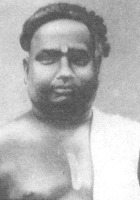 K. C. Kesava Pillai was a composer of Carnatic music, Poet Laureate of Travancore and made contributions to Malayalam literature.

Life and Education

K. C. Kesava Pillai was born in Paravur in Kollam (Quilon) District of Kerala in India in 1868. He had a school education up to the 5th grade and gained a proficiency in music. He watched Kathakali learnt the basics of Kathakali literature, costumes and mudras. Aged 15, he wrote his first attakadha, but was encouraged to learn Sanskrit so that he could correct his work himself and was subsequently taught it by Paravoor V. Kesavan Asan. and grammar by hisco-brother.

Later in his life, in 1896, he had become a teacher in Kollam Malayalam school; within a few years was promoted to the position of Sanskrit Munshi, or the A close associate of Kerala Varma and Rajaraja Varma, K. C. Kesava Pillai died in 1914, aged 46 years. On account of his musical and poetical achievements, he was awarded the title of Sarasa Gayaka Kavimani by Sangeethasahityakovda Kerala Varma Valiya Koyi Thampuran.

K. C. Kesava Pillai's Works:

Sangeetha manjari and Sthavaratnavali: both contain kritis and bhajan songs
Sangeethamaalika and
Eswarasthothranga
Sthavaratnamalika

Attakadha (Gesture Stories)
Prahlaada Charitham, later renamed, Hiranyasuravadham Written aged 15
Soorapadmasuravadham
Sreekrishnavijayam

Poetry
Asanna Marana Chinta Satakam (Reflections of a Dying Man)although written for a competition, is a touching lyrical monologue with a predominant elegiac tone and anticipates the Khandakavyas or shorter poems of the poets of the renaissance. It has an underground connection with C.S.Subramanian Potti's Oruvilapam (A Lament: 1903), V.C.Balakrishna Panikkar's Oruvilapam (A Lament:1908) and even Kumaran Asan's Oru Veena Poovu (A Fallen Flower:1907) which may be thought of an elegy in disguise.
''Adimalarina'': A ragamalika in four languages: Malayalam, Tamil, English and Sanskrit.
Satya Swaroopavibho in raga Sankarabharana
Bhajikka Nee Ramane in Mohanam
Koti Divakara in Dhanyasi
Nana Jaathikal in Kambhoji
Vande Maatharam in Sindhubhairavi
Vande Maatharam in Kuntalavarali
Kamalanatha in Thodi
Sree vasudeva in Kāpi
Sreemoolarajavijayam, 1894, submitted to Sree Moolam Thirunal Maharaja.
Aasannamaranachintasatakam: a work consisting of 104 slokas (songs in Carnatic music or Indian music praising God) in Saardoolavikriditham.
Kerala Bhashaa Narayaneeyam: a translation of Narayaneeyam in Malayalam.
Subhashitha Ratnakaram
Abhinayamalika
Kesaviyam: A mahakavya modeled on the Sanskrit pattern, adhering to the rules of structure and style of the classical rhetorician, Dandi.
Sadarama (A popular Tamil musical play)
A selection of attakkathas.

Plays
Lekshmi Kalyanam
Raghava Madhavam
Vikramorvaseeyam
Sadaarama

Prayers
Pillai composed over 100 keerthanas, prayers in praise of God.

Music
K.C. Kesava Pillai was a composer of songs, whose standard is comparable to that of Swati Tirunal and Irayimman Thampi, both Kerala musicians.
This page is based on the copyrighted Wikipedia K. C. Kesava Pillai; it is used under the Creative Commons Attribution-ShareAlike 3.0 Unported License. You may redistribute it, verbatim or modified, providing that you comply with the terms of the CC-BY-SA.