K. Jared Hosein
K. Jared Hosein
(1986 / Trinidad and Tobago, West Indies.)
Biography of K. Jared Hosein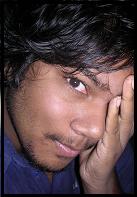 K. Jared Hosein (1986 -...) was born and raised in the Caribbean island state Trinidad and Tobago. He is a writer and poet who has worked on his craft since his teenage years. In 2009, he penned a poem entitled 'The Wait is So, So Long' that would go on to be adapted as a short film that would be featured and win a Gold Key Award at the NY-based Scholastic Art & Writing Awards. He frequently writes to the local newspapers but those pieces are only of political and sociological nature. Although he is currently employed as a Biology and Physics secondary school teacher, he writes everyday to have a significant body of work, to build discipline and to create his own voice and style in the world of West Indian literature.
(love) A Kiss
A kiss down by the riverside,
When the waterspouts
Comes to life
And across the evergreen glide.
A kiss with your mouth open wide,
With noses nuzzling
And lying on a foliage mattress
With nothing to hide.