Kaiser Haq
Kaiser Haq
(7 December 1950 - / Dhaka / Bangladesh)
Biography of Kaiser Haq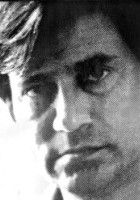 Kaiser Hamidul Haq is a Bangladeshi poet, translator, essayist, critic and academic. Kaiser Haq is one of the few Bangladeshis who excel in creative writings in English.

He is a professor of English at the University of Dhaka.

In the liberation war of Bangladesh, he fought against Pakistani Army "as a freshly commissioned subaltern in command of a company". Haq's poems, mostly written in free verse in standard English and rooted in Bangladeshi life and culture availed him international acknowledgement as "a writer worth noticing".

Kaiser Haq's Works:

Poetry

Published in the Streets of Dhaka: Collected Poems 1966-2006 (writers.ink, Dhaka, 2007).
The Logopathic Reviewer's Song and Other Pieces (Aark Arts, London and UPL, Dhaka,2002).
Black Orchid, London: Aark Arts, 1996.
A Happy Farewell, Dhaka: UPL, 1994
Starting Lines, Dhaka, 1978.
A Little Ado, Dhaka, 1978.
Selected Poems of Shamsur Rahman (trans.), Dhaka: BRAC, 1985. (Enlarged edition,Dhaka: Pathak Samabesh, 2008)
Contemporary Indian Poetry (editor), Ohio State University Press, 1990.

Prose

Quartet (trans. of R.Tagore's Chaturanga), Heinemann, U.K., 1993
The Wonders of Vilayet (trans. of the first Indian travel book on Europe), Peepal Tree
Books, Leeds, 2002 (A section, titled 'Passage to Scotland', excerpted in The Scotsman). New edition: Delhi, Chroniclebooks, 2007.
This page is based on the copyrighted Wikipedia Kaiser Haq; it is used under the Creative Commons Attribution-ShareAlike 3.0 Unported License. You may redistribute it, verbatim or modified, providing that you comply with the terms of the CC-BY-SA.
Kaiser Haq Poems
Ode On The Lungi
Grandpa Walt, allow me to share my thoughts with you, if only because every time I read "Passage to India" and come across the phrase "passage to more than India"
Liking It
It's the easiest thing to say In the grey light of thinning hair: I liked the world the way it was- If only it had held steady
Poor Man Eating
Were I a painter I am sure My signature theme would be The title of this poem.
All poems of Kaiser Haq »
Share your comments »
Ode On The Lungi
Grandpa Walt, allow me to share my thoughts
with you, if only because every time
I read "Passage to India" and come across
the phrase "passage to more than India"
I fancy, anachronistically, that you wanted
to overshoot the target
by a shadow line
and land in Bangladesh