Kamand Kojouri
Biography of Kamand Kojouri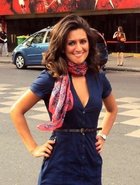 Kamand was born in Tehran, raised in Dubai and Toronto, and resides in Wales. The historical novel she wrote for her master's programme in London was shortlisted for the Peters Fraser and Dunlop (PFD) literary award. She is currently a Creative Writing doctoral candidate working on her second novel.

Her poetry book, The Eternal Dance, was published in March 2018.
If You Ask
If you ask all the cells
in my body,
they only answer your name.
Follicles push the hair upwards
so they may brush
against your skin.
Nails grow faster as well.
Lungs breathe rapidly
in hopes of inhaling your scent.