Kamand Kojouri
Biography of Kamand Kojouri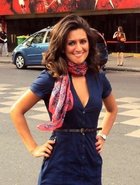 Kamand was born in Tehran, raised in Dubai and Toronto, and resides in Wales. The historical novel she wrote for her master's programme in London was shortlisted for the Peters Fraser and Dunlop (PFD) literary award. She is currently a Creative Writing doctoral candidate working on her second novel.

Her poetry book, The Eternal Dance, was published in March 2018.
Let Us Go
Let us go where skins are rainbows
Enhanced by every hue.

Where genders are clouds
Weightless and formless through.

Let us go where creeds are stars
Illuminating our view.

Where men and women are one
And the in-between are true.

Let us go where I am free to love
For I cannot unlove you.