Kathleen Jessie Raine
Biography of Kathleen Jessie Raine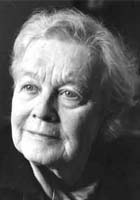 Kathleen Raine was born in London in 1908, where she grew up; taking on a number of unsatisfactory jobs. Through one of her later jobs she met the nephew of the Indian mystic Rama Coomaraswamy Tambimuttu, who invited her to contribute to his new magazine, Poetry London, she did of course, and soon developed a lifelong passion for all things Indian. Raine began to seriously write toward her late twenties, and by 1943 she had published her first collection of poetry Stone and Flower, which was illustrated by Barbara Hepworth. Three years later the collection Living in Time was released, followed by The Pythoness in 1949.

Raine married twice, each time unhappily due to dissatisfaction with domesticity. She was even quoted as saying she felt "as if I were living in someone else's dream." This unhappiness led to an affair with a gay writer named Gavin Maxwell. This affair helped to inspire the works in The Year One 1952, which she released in 1952. Raine stayed frequently with Maxwell on the island of Sandaig in the Scottish Islands. The relationship ended in 1956 when Raine lost his pet otter, Mijbil, who inspired Maxwell's best-selling book Ring of Bright Water. She published a book of poems called Collected Poems that same year.

She began her autobiography 1973 and it was out in 1977. Four years later Raine had founded her own magazine, called Temenos, to help articulate her views. Raine went on to win several awards, including the Harriet Monroe Prize, Edna St. Vincent Millay Prize from the American Poetry Society, and the Queens Gold Medal for Poetry in 1992. In 2000, she was made a Commander of the British Empire.
This page is based on the copyrighted Wikipedia Kathleen Jessie Raine; it is used under the Creative Commons Attribution-ShareAlike 3.0 Unported License. You may redistribute it, verbatim or modified, providing that you comply with the terms of the CC-BY-SA.
Harvest
Day is the hero's shield,
Achilles' field,
The light days are the angels.
We the seed.

Against eternal light and gorgon's face
Day is the shield
And we the grass
Native to fields of iron, and skies of brass.