Kedarnath Agarwal
Biography of Kedarnath Agarwal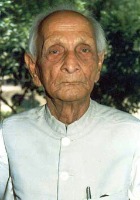 Kedarnath Agarwal (also spelled as Agrawal and Aggarwal) (Hindi: केदारनाथ अग्रवाल) was a Hindi language poet and littérateur.

Biography

Kedarnath was born on April 1, 1911 to Hanuman Prasad Gupta and his wife Ghasiti Devi. He was born in the village of Kamasin in Banda district in the Bundelkhand region of the present-day Indian state of Uttar Pradesh. He acquired the B.A. and L.L.B. degrees, and became a practising advocate in Banda in 1938.

However, his first love was Hindi literature, and he contributed much to that field. He was a member of the Pragatisheel Lekhak Sangh, a body inspired by the leftist Progressive Writers' Movement. His writings have been translated into English, German, and Russian.

In recognition of these contributions, Kedarnath Agarwal was awarded the Soviet Land Nehru Prize in 1973. He received the Sahitya Akademi Award in 1986. In 1995, Bundelkhand university conferred an honorary doctorate in literature (D.Litt) upon him. Other accolades included the Hindi Sansthan Uttar Pradesh Puraskar (1981); Tulsi Puraskar (1986); Mythili Sharan Gupta Puraskar (1990-91); and the Sahitya Vachaspati Manad Upaadhi (1990).

Agarwal was also involved in several educational and literary bodies. He served as president of the Arya Kanya Intermediate College for many years. He was associated with the Vinoba Bhave College located in Kamasin village, his birthplace. He also served for one year as president of the local Bar Association in Banda.

Agarwal was married to Parvati Devi. The couple were the parents of two daughters and a son. Agarwal died on June 22, 2000.

The Kedar Samman

The "Kedar Shod Peeth" is a foundation dedicated to commemorating Kedarnath Agarwal's contributions to literature. Every year, it awards the "Kedar Samman" to one person who has made outstanding contributions to literature.

Kedarnath Agarwal's Works:

Yug Ki Ganga, Neend Ke Badal, Lok Aur Alok, Phool nahin Rang Bolte Hain, Aag Ka Aayeena, Bambay ka Raktasnan, Gulmehndi, Pankh aur Patwar, Mar Pyar ki Thapein, He Meri Tum, Kahein Kedar Khari Khari, Apoorva, Jamun Jal Tum, Bole Bol Amol, Jo Shilayein Todte Hain, Aatma Gandh, Anhari Haryali, Khuli Aankhein Khuli Daine, Pushpadeep.
This page is based on the copyrighted Wikipedia Kedarnath Agarwal; it is used under the Creative Commons Attribution-ShareAlike 3.0 Unported License. You may redistribute it, verbatim or modified, providing that you comply with the terms of the CC-BY-SA.
The Inheritance
At the death of his father,
The son
Of a starving farmer has -
The debris of his house,
The broken cot and a few
Yards of land all barren,
A sole of a country made shoes.
A small broken goad to drive
The bullocks with,