Keith Taylor
Keith Taylor
(1952 / British Columbia)
Biography of Keith Taylor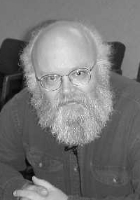 Born in British Columbia, Taylor spent his childhood in Alberta and Indiana. After earning an M.A. in English from Central Michigan University, he worked a variety of odd jobs: the co-host of a radio talk show, a house painter, a freight handler, a teacher, a freelance writer. He also worked at Shaman Drum, a leading independent bookstore, for twenty years. He currently lives in Ann Arbor with his wife and daughter and is a professor in the creative writing program at University of Michigan.
His poems have appeared in many journals, including The Ann Arbor Observer, The Chicago Tribune, The Detroit Free Press, The Los Angeles Times, Michigan Quarterly Review, The Notre Dame Review, ' Poetry Ireland Review, and The Sunday Telegraph Magazine (London). Taylor is the recipient of, among other awards, a fellowship in poetry from the National Endowment for the Arts.
Mortals... Gods... Eh...
Many people think that there is only one King,
Who rules over all, everyone, everything.
Well, I come here to tell you how
That there are Gods that walk among us now!

Gods do not live above the clouds.
Some wish they could, but must live aground.
They do what we do, these mighty Deities,
Though some have crooked priorities.