Keki Daruwalla
Biography of Keki Daruwalla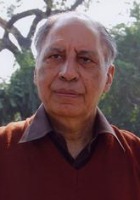 Keki Nasserwanji Daruwalla was born in 1937 in Lahore in undivided India. In
1945 his father Prof. N.C. Daruwalla retired from Govt. College Lyallpur (now
Shah Faizlabad) and moved to Junagadh as Tutor and Guardian to the Prince.
His latest novel Ancestral Affairs (Harpercollins, 2015) dwells on Junagadh's
disastrous accession to Pakistan in 1947. From Junagadh the family moved to
Rampur in UP in 1948, where he first studied in Baqar School and later Raza
Inter college. His early education, mostly in sub –standard institutions, was
pretty chaotic, especially because the language of instruction kept changing,
the last two being Urdu and then Hindi. From 1952 -58 he studied in
Government College Ludhiana. He attended a coaching camp run by Lala
Amarnath and captained his College Cricket XI.
He picked up his love for English literature and cricket from his father.
Daruwalla joined the Indian Police Service (IPS) in 1958. He had two stints in
anti dacoity operations in UP and also served in the SSB on the Indi Tibet
border for three years 1963-66, where he trekked up to heights of 18,880 feet
while crossint the Chorhoti Pass. He joined the Cabinet Secretariat and left
R&AW as Special Secretary when he was promoted as Secretary and Chairman
JIC (Joint Intelligence Committee) in 1993. He retired in 1995.
After retirement he rode through the entire Himalayas ( including Nepal,
Bhutan and Sikkim) in 2003. He served as Member National Commission for
Minorities (2011-2014) where he visited and enquired into practically every
major communal riot. He was awarded the Padma Shri for his writing in 2014.
He returned his Sahitya Academy Award in 2015 as a protest against its
reluctance to take up the cause of rationalist writers murdered by right wing
diehards, and also against intolerance of fringe elements belonging to so
called 'cultural' factions.
He was Special Assistant to the Prime Minister in 1979.
Daruwalla was a Colombo Plan scholar at Oxford 1980-81 where he worked on Politics in South Asia. He was also a member of the Commonwealth Observers Group for the Zimbabwe Elections in 1980.

Keki Daruwalla's Works:

Books

Under Orion. Writers Workshop, India. 1970
Apparition in April. Writers Workshop, 1971.
Sword & abyss: a collection of short stories. Vikas Pub., 1979.
Winter poems. Allied Publishers, 1980.
The Keeper of the Dead. Oxford University Press, 1982.
Crossing of rivers. Oxford Univ. Press, 1985.
Landscapes. Oxford University Press, 1987.
A summer of tigers: poems. Indus, 1995.
The Minister for Permanent unrest & other stories. Orient Blackswan, 1996.
Night river: poems. Rupa & Co., 2000.
The Map-maker: Poems. Orient Blackswan, 2002.
The Scarecrow and the Ghost. Rupa & Co., 2004.
A House in Ranikhet. Rupa & Co, 2003.
Collected Poems ( 1970-2005). (Poetry in English). Penguin Books India., 2006.
"Map Maker": 2002
"Fire Altar: Poems on the Persians and Greeks"​: 2013
"For Pepper and Christ" novel, 2009: (It was short listed for the Commonwealth Fiction prize for Asia and UK in 2010)
"Ancestral Affairs" Novel, 2015.
This page is based on the copyrighted Wikipedia Keki Daruwalla; it is used under the Creative Commons Attribution-ShareAlike 3.0 Unported License. You may redistribute it, verbatim or modified, providing that you comply with the terms of the CC-BY-SA.
Map-Maker
Perhaps I'll wake up on some alien shore
In the shimmer of an aluminium dawn,
to find the sea talking to itself
and rummaging among the lines I've drawn;
looking for something, a voyager perhaps,
gnarled as a thorn tree in whose loving hands,
these map lines of mine, somnambulant,
will wake and pulse and turn to shoreline, sand.