Khembottra Oum
Biography of Khembottra Oum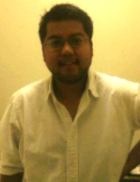 Khembottra Oum is an American/Cambodian poet from Long Beach, CA. His poems mainly focus on religion, love, and the human condition. Besides being influenced by poets of the past, he cites that battle rapping and hip hop artists have contributed to his unique style. He continues to test the limits of poetry and wants to bring it back as an important medium of popular culture.
Hero Of Poem
If I have truly lived a life of my poems
would that make me a better man.

I would be a hypocrite if I told you so,
for I am no hero of poem.

I live within my dreams and the dreams of poets,
my reality is dark and somber.

Each and everyday, I try and I try...
to be a hero of poem.