Kimberly Bellamy
Kimberly Bellamy
(08/13/1989 / Seale, Alabama)
Biography of Kimberly Bellamy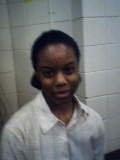 My name is Kimberly and I have been writing peoms all my life. I have written over 10,000 poems which some has not yet been published. I would love to get them published one day. Poetry helps me to express myself when I can't do it verbally. Writing everything down helps me to cope and feel better about myself. Poetry has been my life. I'd be surprised at how creative I can be and I love for people to read what I write and love it.

Kimberly Bellamy's Works:

none so far
Kimberly Bellamy Poems
In Your Possession
You can hit me once, hit me twice spit in my face and not be so nice But what can I do? I belong to you. I am in your possession you say
So Far Away
You are close, but yet so far away. We can't let distance get in the way of what we have. Every day we have to wake up knowing we are not going to give up. I want you to stay in my life because you are all I want.
The Cure For Your Pain
Here I am. I am here... to look after you until you are well. Sleep, my love, while I kiss you where it hurts. I will rub you gently and make you feel relaxed.
All poems of Kimberly Bellamy »
Share your comments »
In Your Possession
You can hit me once, hit me twice
spit in my face and not be so nice
But what can I do? I belong to you.
I am in your possession you say
and that anything you say I have to do
I say I can take what you give me
because I am madly in love with you.
My tears I release are not caused by your cruelty
The bruises on my arms are not caused by your strong hands