Kimberly Johnson
Biography of Kimberly Johnson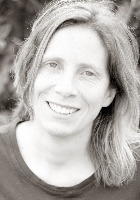 Kimberly Johnson (born 1971) is an American poet and Renaissance scholar.

Johnson was raised in West Jordan, Utah. She earned her MA in 1995 from the Johns Hopkins University Writing Seminars, her MFA in 1997 Iowa Writers' Workshop, and a PhD in 2003 from University of California, Berkeley.

She teaches courses in creative writing and Renaissance literature at Brigham Young University (BYU). Johnson's academic interests include lyric poetry, John Milton, and John Donne.

Her work has appeared recently in The New Yorker, Slate, The Iowa Review, 32 Poems, and The Yale Review, and her translations from Latin and Greek have been published in literary and academic journals. She has also published a number of scholarly articles on seventeenth-century literature.

She has edited a collection of essays on Renaissance literature, and an online archive of John Donne's complete sermons.

She is married to poet and essayist Jay Hopler.
Ode On My Episiotomy
Forget pearls, lace-edged kerchiefs, roomy pleats—
this is my most matronly adornment:
stitches purling up the middle of me
to shut my seam, the one that jagged gaped
upon my fecund, unspeakable dark,
my indecorum needled together
with torquemadan efficiency.
But O! the dream of the dropped stitch! the loophole
through which that unruly within might thread,