Kingsley Amis
Biography of Kingsley Amis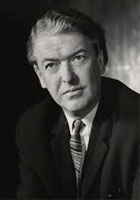 Sir Kingsley William Amis, CBE (16 April 1922 – 22 October 1995) was an English novelist, poet, critic and teacher. He wrote more than 20 novels, six volumes of poetry, a memoir, and various short stories, radio and television scripts, and books of social and literary criticism. According to his biographer, Zachary Leader, Amis was "the finest British comic novelist of the second half of the twentieth century." He is the father of the English novelist Martin Amis.

In 2008, The Times ranked Kingsley Amis ninth on their list of the 50 greatest British writers since 1945.
This page is based on the copyrighted Wikipedia Kingsley Amis; it is used under the Creative Commons Attribution-ShareAlike 3.0 Unported License. You may redistribute it, verbatim or modified, providing that you comply with the terms of the CC-BY-SA.
A Note On Wyatt
See her come bearing down, a tidy craft!
Gaily her topsails bulge, her sidelights burn!
There's jigging in her rigging fore and aft,
And beauty's self, not name, limned on her stern.

See at her head the Jolly Roger flutters!
"God, is she fully manned? If she's one short..."
Cadet, bargee, longshoreman, shellback mutters;
Drowned is reason that should me comfort.