Kit Wright
Biography of Kit Wright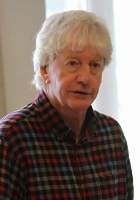 Kit Wright (born 17 June 1944 in Crockham Hill, Kent) is the author of more than twenty-five books, for both adults and children, and the winner of awards including an Arts Council Writers' Award, the Geoffrey Faber Memorial Prize, the Hawthornden Prize, the Alice Hunt Bartlett Prize and (jointly) the Heinemann Award. After a scholarship to Oxford University, he worked as a lecturer in Canada, then returned to England and a position in the Poetry Society. He is currently a full-time writer.
Educated at Oxford University, Wright moved to Canada to work as a lecturer.[2] In 1970 he returned to London to work as an Education Officer for the Poetry Society until 1975. From 1977 to 1979 he was Fellow Commoner in Creative Art at Cambridge University. He subsequently returned to London and works full-time as a writer. He currently contributes monthly to The Oldie magazine.
The Roller in the Woods
Who would imagine a cricket ground
Had ever existed here,
Folded into a farm on the downland pasture,
Lapping the edge of the oakwood
And the buttercup-quilted rides?
For the Toll is returned to plough
After a century of combat,
Sown to a sea of blue-green waves
Beneath which it lies drowned.