Koyamparambath Satchidanandan
Biography of Koyamparambath Satchidanandan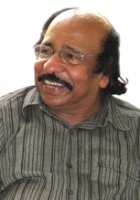 K. Satchidanandan is a major Indian poet and critic, writing in Malayalam, and English. Satchidanandan has established himself as an academician, editor, translator and playwright.

Born in central Kerala, he was a Professor of English and Editor of Indian Literature, the journal of the Sahitya Akademi (India's National Academy of Literature) and the executive head of the Sahitya Akademi for a decade (1996–2006) He has to his credit 23 collections of poetry besides many selections, 16 collections of translations of poetry and 21 collections of essays on literature, language and society-three of them in English- besides four plays and three travel narratives. He has 25 collections of his poetry in translation in 17 languages including Tamil, Hindi, Bengali, English, Arabic, French, German and Italian. He has introduced several poets like Garcia Lorca, Alexander Block, Voznesensky, Pablo Neruda, Cesar Vallejo, Bertolt Brecht, Paul Celan, Zbignew Herbert, Eugenio Montale, Giuseppe Ungaretti, Mahmoud Darwish and Yehuda Amichai to Malayalam readers through translations and studies besides a lot of Black, Latin American and Indian poetry. He has also travelled widely, writing and lecturing.

K. Satchidanandan was one of the pioneers of modern poetry in Malayalam and is well known for the subtle and nuanced articulations of socio-political contexts in his poetry. Critics have noted narrativity, irony and philosophical contemplation on the contradictions of existence as decisive elements in his poetry. Commenting on his first collection of translations in English, the poet Jayanta Mahapatra said; "in Summer rain" we find a depth of meaning that cries out aloud to be known and read far and wide. These are poems of great strength and power, a moving tribute to the generation in which we live." According to Carlo Savini, the Italian critic, finds him to be a poet "who resists all kinds of mass ideas and conditioning", one who "celebrates his inner freedom even while respecting the real values of man and his soul". Antonio Mennitti Ippolito speaks of his "many-stringed lyre"; and says he brings all these voices together in his best, dialogic, poems. Satchidanandan has received sixteen literary awards besides many honours like the Knighthood of the Order of Merit from the Government of Italy and the Medallion of Friendship from the Government of Poland.

Life and Career

Koyamparambath Satchidanandan was born in 1946 in Pulloot, a village in Kodungallur in the Thrissur district of Kerala. After his early education in the village schools, he studied biology at Christ College, Irinjalakuda and had his Masters in English from Maharajas College, Ernakulam. He obtained his Ph.D in Post-structuralism poetics from the University of Calicut. He joined as a lecturer in English at K.K.T.M. College, Pulloot in 1968, and moved to Christ College in 1970 where he became a Professor of English. He voluntarily retired from this post in 1992 to take up the editorship of Indian Literature, the English journal of the Indian National Academy in Delhi. In 1996 he was nominated Secretary, the Chief Executive, of the Academy, a post from which he retired in 2006. Later he served as a Consultant to the Indian Government's Department of Higher Education and to the National Translation Mission. He currently edits Beyond Borders, a journal of South Asian literature and ideas. Satchidanandan is married, with two daughters.

Satchidanandan's early poems were highly experimental and the publication of his first collection, Anchusooryan (Five Suns, 1971) was an important even in Malayalam literature. The same year he launched Jwala (Flame), an avant-garde journal dedicated to experimental writing. He had earlier published a collection of essays on modern Malayalam poetry (Kurukshetram, 1970).He was also translating poetry from across the world for Kerala Kavita and other poetry journals, and writing critical articles on modern literature, arts and culture. By the mid-seventies, he had aligned himself broadly with the political left in Kerala, and was close to the New Left movement and active in its cultural wing, Janakeeya Samskarikavedi (The Forum for People's Culture). He was also associated with other liberal political and secular forums like Desabhimani Study Circle and Kerala Sasthra Sahitya Parishad, an organisation to promote scientific outlook. He wrote many poems protesting against the Emergency in India (1975–77); many of his poems were censored and he was also interrogated by the Crime Branch. In 1978, he launched a small publishing house called Prasakthi Library that brought out anthologies of poems and short stories as well as political tracts. A collection of his poems, written between 1965 to 1982 was published in 1983. He was invited to participate in the Valmiki International Poetry Festival in New Delhi and to represent India at the Sarajevo Poetry Days in former Yugoslavia in 1985. In 1988 he visited the U.S.S.R. as part of a poets' team to take part in the Festival of India there. By this time, his poems and collections had begun to appear in other languages and his books were becoming text books in colleges.

His life in Delhi, after he took up the editorship of Indian Literature, influenced his poetry in many ways: his concerns became broader, resulting in a series of poems on Kerala made possible by his physical distance from the district, and another series on the saint and Sufi poets of India as a part of recovering the secular heritage in the Indian tradition that he felt was getting lost in the sectarian communalism of right wing politics. In 1993 he visited Ayodhya as a part of a team of writers to protest against the destruction of Babri Masjid by the Hindu right wing. He led the writers' team to China during the Festival of India in China in 1994. As Secretary of the Sahitya Akademi (1996–2006) he launched several new platforms for the emerging writers, especially the young, women, dalits, and tribals besides making the Akademi contemporary in the true sense.

At the same time he kept on writing, translating and editing; a good part of his literary output at this time was in English, as he was addressing a national readership, but he wrote poetry only in his mother tongue, most of which he, along with others, translated into English. He took part in the Ivry Poetry Festival in France in 1997, led a team of writers to Sweden and visited the U.S.A. as a writer the same year. He led a group of writers to Italy in 1999, revisited China in 2000 and again in 2010. In 2002 he was invited to the World Poetry Academy in Verona, Italy, and was active in the campaign against the genocide in Gujarat committed by the Hindu communalists there. His collection of poems in French was published in Paris in 2002. In 2003 he visited France again for readings in five cities as part of the poetry festival, Prentemps des Poetes. In 2004, he visited Syria, New York in the United States and Pakistan as part of the Indian writers' delegations to those countries; his collection in Italian was published in Rome the same year. He was the Indian invitee to the Berlin Literary Festival in 2005, and read at the Frankfurt Book Fair. He was also an invitee to the Leipzig Book Fair and the Abu Dhabi Book Fair in 2006. He again visited Germany in 2006, after his retirement from the Academy when his German collection was released during the Frankfurt Book fair. The same year saw the publication of his Collected Poems (1965–2005) in three volumes. The first volume of his Collected Translations of poetry came out in 2007. In 2007, he again visited Italy, had a reading tour in the Gulf countries and was invited to the Jaipur International Literary Festival in 2008. Since then he has been part of this Fesrtival, taking part in readings and discussions (2009–2011) He represented India at the London Book Fair, 2009 and the Moscow Book fair (2009).His collection of poems in Arabic translation was published in 2009 from Abu Dhabi. A documentary film on him, Summer Rain was released in 2007. He was made a Fellow of the Sahitya Akademi, Kerala in 2010.He was part of the Wales-India poetry Exchange in Wales in 2011 and took part in the Blue Metropolis Literary Festival in Montreal in 2011, followed by readings in Ottawa and Regina. He took part in the U. N. Symposium in New York on 'The Role of Literature in Unlearning Intolerance'in the same year.Satchidanandan also ws part of the Hay Festival in Kerala in 2010 and 2011. He was also nominated for the 2011 Nobel Prize in literature .

Awards and Honours

1. Kerala Sahitya Akademi C.B. Kumar Award for Essays, Kerala, 1984.
2. The Best Public Observer Prize, Indian Youth Association, Kerala, 1986.
3. Kerala Sahitya Akademi Award for Poetry, Kerala, 1989.
4. Sreekant Verma Fellowship for Poetry Translation, Govt. of Madhya Pradesh, 1990
5. Oman Cultural Centre Award for Total Literary Contribution, Oman U.A.E., 1993.
6. Mahakavi Ulloor Award for Poetry, Kerala, 1996.
7. Mahakavi P. Kunhiraman Nair Award for Poetry, Kerala, 1997.
8. Bharatiya Bhasha Parishad Samvatsar Award for Poetry, Kolkata, 1998.
9. Kerala Sahitya Akademi Award for Drama, Kerala, 1999
10. Senior Fellowship from Department of Culture, Govt. of India, 1999
11. Ganakrishti Puraskar for Poetry, Kolkata, 2000
12. Kumaran Asan Award for Poetry, Chennai, 2000
13. Odakkuzhal Award for Poetry, Kerala, 2001
14. Kerala Sahitya Akademi Award for Travelogue, Kerala, 2001
15. Manaveeyam Cultural Mission (Govt. of Kerala) memento for 'Service to Humanity through Literature', 2001.
16. Bahrain Keraleeya Samajam Award for Total Literary Contribution, Kingdom Of Bahrain, 2002
17. Gangadhar Meher National Award for Poetry, Sambalpur University, Orissa, 2002
18. Pandalam Kerala Verma Award for Poetry, Kerala, 2005
19. Bappureddy National Award for Literature, Hyderabad, A.P. 2005
20. Vayalar Award for Poetry, Kerala, 2005
21. Friendship Medal, Govt. of Poland, 2005
22. Sahityasree, Hindi Sammelan, Delhi, 2006
23. Knighthood of the Order of Merit, Govt. of Italy, 2006
24. Sree Kerala Varma Sahitya Puraskaram, 2006
25. K. Kuttikrishnan Memorial Award for Poetry, Kerala, 2007
26. Subrahmanya Shenoi Memorial Award for Total Literary Contribution, 2008
27. Kadammanitta Ramakrishnan Memorial Award from Bahrain, 2009
28. Patmaprabha Puraskaram, 2009
29. Kerala Sahithya Akademi Award for Translation, 2009 30. Kerala Sahitya Akademi Fellow, 2010 31. Kusumagraj National Award, 2011

Koyamparambath Satchidanandan's Works:

Own works in Malayalam

Poetry
1. Anchu Sooryan (Five Suns, 1971)
2. Atmagita (The Song of the Self, 1974)
3. Kavita (Poetry, 1977, 82, 84)
4. Indian Sketchukal (Indian Sketches, 1978)
5. Ezhuthachan Ezhutumbol (When the Poet Writes, 1979, 85, 87, 89)
6. Peedana Kalam (Times of Torment, 1981, 89)
7. Venal Mazha (The Summer Rain, 1982)
8. Randu Derrgha Kavyangal (Two Long Poems, 1983)
9. Satchidanandante Kavithakal 1962-82 (Poems 1962-82, 1983,87)
10. Socrateesum Kozhiyum (Socrates and the Cock, 1984)
11. Ivanekkoodi (Him, too, 1987, 89, 90, 95, 97)
12. Veedumattam (Changing House, 1988)
13. Kayattam (The Ascent, 1990)
14. Kavibuddhan (The Poet as Buddha, 1992)
15. Eenta Satchidanandan Kavitakal, Ed. Balachandran Chullikkad (Selected poems 1993)
16. Desatanam (Going Places, 1994, 1995)
17. Malayalam (1996, 1998, 2003))
18. Apoornam (Imperfect, 1998)
19. Theranjedutha Kavitakal (Selected Poems, 1999)
20. Sambhashanathinu Oru Sramam (An Attempt to Converse, 2000)
21. Vikku, (Stammer, 2002)
22. Sakshyangal (Witness, 2004)
23. Ghazalukal, Geetangal (Ghazals and Geets, 2005)
24. Satchidanandte Kavithakal (Poems 1965-2005, 2006)
25. Anantam (Infinite, 2006)
26. Onnaam Padham (The First Lesson, 2006)
27. Ente Kavita (My Poems, 2008) 28. Marannunacha Vasthukkal (2009) 29. Bahuroopi ( 2011)

Plays
29. Saktan Thampuran (One-act Plays, 1983)
30. Gandhi (Full-length Play, 1995)

Prose
31. Kurukshetram (Studies in Modern Poetry, 1970)
32. Janatayum Kavitayum ((Poetry and the People, 1982, 84)
33. Marxian Soundarya Sastram (Marxian Aesthetics, 1983, 90)
34. Thiranjedutha Lekhanangal (Selected Essays, 1985)
35. Pablo Neruda (A Lecture on Pablo Neruda, 1985, 1990, Revised, 2007))
36. Samvadangal (Dialogues: on society, culture, politics, religion education, ecology and literature, 1986)
37. Sameepananangal (Approaches, 1986)
38. Samskarathinte Rashtreeyam (The Politics of Culture, 1989)
39. Sambhashanangal (Conversations: a collection of Interviews given, 1989)
40. Brechtinte Kala (The Art of Bertolt Brecht, 1989, Revised, 2007)
41. Padavukal (Steps: Early articles, 1990)
42. Kazhchakal, Kazhachappadukal (Sights and Visions: Travelogues, 1991)
43. Anveshanangal (Enquiries, 1991)
44. Veenduvicharangal (Rethinkings, 1992)
45. Soundaryavum Adhikaravum (Beauty and Power : on Aesthetics and Politics, 1993)
46. Muhurtangal (Moments, selected Essays on Malayalam Literature, 1996)
47. Pala Lokam, Pala Kalam (Many Times, Many Worlds, Travel Writings, 1998)
48. Kalayum Nishedhavum (Art and Dissent, 1999)
49. Bharateeya Kavitayile Pratirodha Paramparyam (The Tradition of Dissent of Indian Poetry, 2002)
50. Moonnu Yatra (Three Travels, Travelogues, 2004)
51. Kizhakkum Padinjarum (East and West, Travelogues, 2005)
52. Adithattukal (Foundations, Essays, 2006)
53. Mukhamukham (Interviews, 2006) 54. Darshanathinte Ritubhedangal ( Articles, 2010) 55. Malayalakavitha Patanangal (Studies, 2009, 2011)

Translations in Other Languages
1. Andha Admi Jisne Soorya Khoja (Selected Poems, Hindi, Delhi, 1987)
2. Selected Poems (Gujarati, Ahmedabad1989)
3. Irachasakshigal (Selected Poems, Tamil, Coimbatore, 1990)
4. Summer Rain: Three Decades of Poetry (English, Delhi, 1995)
5. Voh Jise Sab Yad Tha (Selected Poems, Hindi, Delhi, 1996)
6. Nanna Mai Nagara (Selected Poems, Kannada, Bangalore, 1996)
7. How To Go To The Tao Temple (New Poems, English, Delhi, 1998)
8. Sachidanandan Kavitaikal (Selected Poems, Tamil, Madras, 1998)
9. Sareeram Oru Nagaram (Selected Poems, Tamil, Madras, 1999)
10. Apoorna Aura Anya Karitayem (Poems, Hindi, Delhi, 2000)
11. Imperfect and Other New Poems (Poems, English, Calicut, 2000)
12. Sagar Teerer Kavita (Poems, Assamese, Guwahati, 2001)
13. Sachidanandaner Kavita (Poems, Bengali, Calcutta, 2001)
14. So Many Births (Poems, English, Delhi, 2001)
15. Kavitai Meendum Varum (Poems, Tamil, Madras, 2002)
16. Peele Pathe Da Supna (Poems, Punjabi, Delhi, 2002)
17. Ghar O Anyanya Kabita (Poems, Oriya, Cuttack, 2002)
18. Tant De Vies: L'Incomplet et autres poemes (Poems, French, Paris, 2002)
19. Haklahat (Poems, Hindi, Delhi, 2004)
20. Ham Jazeeraun Mein Rahte Hein (Poems, Urdu, Hyderabad, 2004)
21. Sareeram Oka Nagaram (Poems, Telugu, Hyderabad, 2004)
22. I Riti Della Terra (Poems, Italian, Rome, 2004)
23. Suruatem (Poems, Hindi, 2005)
24. Stammer and Other Poems (Poems, English, 2005)
25. Ich Glaube Nicht An Grenzen (Poems, German, 2006)
26. Luknat (Poems, Urdu, 2008) 27. How Did Mayakovsky Commit Suicide(Poems, Arabic, 2009) 28. Rogha Danta ( Selected Poems, Irish,2012)

Prose in Other Languages
27. Marxiya Azagiyar (Marxian Aesthetics, Tamil, 1986)
28. Bharatiya Sahitya: Sthapanayem Aur Prasthavanayem (Indian Literature : Positions and Propositions, 2003)

Original Works in English
1. Indian Literature: Positions and Propositions (Essays in Indian Literature, Delhi, 1999)
2. Authors, Texts, Issues (Essays in Indian Literature, Delhi 2002)
3. Indian Literature Paradigms and Perspectives (Essays in Indian Literature, Delhi, 2008) 4. Readings, Indian Literature and Beyond (Essays in Indian Literature, Delhi, 2009)
This page is based on the copyrighted Wikipedia Koyamparambath Satchidanandan; it is used under the Creative Commons Attribution-ShareAlike 3.0 Unported License. You may redistribute it, verbatim or modified, providing that you comply with the terms of the CC-BY-SA.
Those Who Go
Let them go who want to;
turn your eyes towards
those who remain.
Look into the mirror:
An angel looks at you
from within,whispering to you
in your own voice:
Don't give up, live.