Biography of Kristin Nicole RothDavis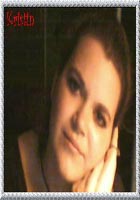 Kristin Nicole Roth-Davis
Age: 31
Female
Oklahoma, USA

Mother of two girls, Sarah Nicole & Sadie Ann


Recently battled cancer and came close a few times; however, is doing well. Divorce and custody battle broke lose towards the middle of her struggle w/ cancer. Decisions that Kristin made during this tough time made her realize that life isn't to be gambled with. Regardless of religious preferences or political interest, Kristin is one that can debate with you how important it is to pay attention to the choices you make in life and that the fingerprints you leave in others lives should be important to all, for they are what structures the future.

A warrior by heart, a dynamic spirit that could make the ground shake, and an imaginative carnal-like mind that will have you wondering where's she coming from.

Mysteriously, Kristin lives a simple life that is the utmost functional, dysfunctional life representing her past choices and the struggles she still fights to over come. Pity is a lesson for Kristin that she has learn to manipulate in ways that are remarkable, yet saddens those around her.

A beautiful and talented writer who invites all to get to know her through her writing. Leave no mistake that she has yet believed in herself enough to take the leap on faith and have her work published, but when she does Poemhunter.com will definitely be identified as her poetic home.

Kristin Nicole RothDavis's Works:

Many finished projects and many, many unfinished projects to come... I dream of being published...

I would like to personally take this time to thank the Prayer Warriors for being there for me @ a time where I didn't see the light @ the end of the tunnel and you each hold a very special place in my heart!

Would you please stop by and remember my brother in Christ, Doc Wilde and his wife Sammy! They are awesome people and I love you guys!

Thank you!
Kristin
Kristin Nicole RothDavis Poems
From The Inside Out
I had never loved from the inside out,
always seen the outer shell.
I didn't care to see what it was all about,
never caring what their soul could tell.

Once I looked upon the face of a young man,
and fell in love with his handsome smile.
And watched it leave like a handful of sand,
that washes away with the tide across the miles.