Kumarmani Mahakul
Kumarmani Mahakul
(Gandam, Dist-Deogarh, Odisha, INDIA)
Biography of Kumarmani Mahakul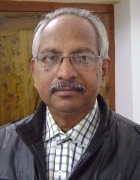 Kumarmani Mahakul takes birth at a holy moment as the youngest son of Bamancharan Mahakul his father and mother Pirapriyambada Devi in village Gandam of undivided Sambalpur district (Currently belongs to Deogarh district) in the Indian state of Odisha. He keeps interest for art and culture from his early teenage and involves in service of rural art, education, culture, drama, and ritualistic village festivals. After struggle to complete his education he joins as a school teacher in Lakhanpur block of district of Jharsuguda in Odisha and later moves to many schools for teaching. Most of his time period is spent in teaching in very remote Laimura area of Tileibani block of Deogarh district. He retires as the Headmaster from Ludhar U.G.U.P. (ME) School. He is graduated in art and education both and post graduated in Education (Master of Education, M.Ed) from Sambalpur University. He keeps interest in writing from his early age. He also gives time for research in personal level for the development of children and educational management and his research articles publish in world reputed international journals. He spends his happy life with his spouse Bhargabi Dei Mahakul, who also inspires him a lot for writing and he has two sons.
New Poems
In God's Mind We Are
In God's mind we are he takes care,
His creation is very nice we do stare.
We do adore him in life every day,
We obey the principles he does say.

His duty he does in every second,
We are inspired we are beckoned.
His bless falls on us we live in joy,
We are souls we wear body as toy.