L.P Omar
L.P Omar
(23-05-1992 / Faridpur Distric near by Bhanga Thana)
Biography of L.P Omar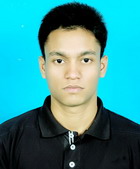 I'm Omar Faruk from Bangladesh. i am the second son of Md. Kamruzzaman Molla and Mrs. Nargish Begum I have three brothers and only one sister.I have passed the S.S.C examination from Pilot school in 2009. And i have completed Higher Secondary level from Mollartek Udayan Collage, Near by Uttara Thana under the Dhaka education Bord in 2011. Now I am a student of English Department of Asian University of Bangladesh. I like to write Love poems cause That I worshiper, grim fans of love.
Nandita
With a dusty alley,
We'll go walk to keep hand by hand.
Your derange hair will fly autuam's wind.
I'll look forward to you, absent-minded.

You'll laugh to keep eye to eye.
Maybe I'll lose to your eye's inebriety.
May haps I'll say nymph Nandita you.