Lady Anne Lindsay
Biography of Lady Anne Lindsay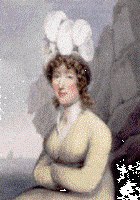 Lady Anne Barnard (12 December 1750–6 May 1825), née Anne Lindsay, eldest daughter of James Lindsay, 5th Earl of Balcarres was born at Balcarres House, Fife, Scotland. She was author of the ballad Auld Robin Gray and an accomplished travel writer, artist and socialite of the period.

Lady Anne was also an accomplished artist, some of her works being included in her published accounts of life in the 18th and 19th centuries. Her works include oil paintings and drawings.

Rev. William Leeves revealed in 1812 that Auld Robin Gray had been written by her in 1772, and set to music by him. It was published anonymously in 1783, Lady Anne only acknowledging the authorship of the words two years before her death in a letter to Sir Walter Scott (1823), who subsequently edited it for the Bannatyne Club with two continuations.

Lady Anne is commemorated in several ways in Cape Town. A chamber in the Castle of Good Hope is known as "Lady Anne Barnard's Ballroom"; a road in the suburb of Newlands, where the Barnards lived, is named "Lady Anne Avenue"; and a carved effigy of her is displayed in the foyer of the civic centre in the neighbouring suburb of Claremont. The Barnards' country house, The Vineyard, survives as part of an hotel.
Lady Anne Lindsay Poems
Auld Robin Gray
WHEN the sheep are in the fauld, and the kye at hame, And a' the warld to rest are gane, The waes o' my heart fa' in showers frae my e'e, While my gudeman lies sound by me.
Sonnet
Yea, Love is strong as life; he casts out fear, And wrath, and hate, and all our envious foes; He stands upon the threshold, quick to close
All poems of Lady Anne Lindsay »
Share your comments »
Sonnet
Yea, Love is strong as life; he casts out fear,
And wrath, and hate, and all our envious foes;
He stands upon the threshold, quick to close
The gate of happiness ere should appear
Death's dreaded presence--ay, but Death draws near,
And large and gray the towering outline grows,
Whose face is veiled and hid; and yet Love knows
Full well, too well, alas! that Death is here.
Death tramples on the roses; Death comes in,