Lakshmi Kumari Chundawat
Biography of Lakshmi Kumari Chundawat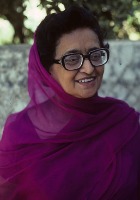 Lakshmi Kumari Chundawat is an author and a politician from Rajasthan, India.

Personal Life

She was born on June 24, 1916, and was the elder daughter of the Rawat of Deogarh, one of the major thikanas (estates) of the princely state of Mewar in Rajasthan. She married Rawat Tej Singh of Rawatsar in 1934.

Political Life

She joined the Indian National Congress party and was a Member of the Rajasthan Legislative Assembly from 1962 to 1971 from Deogarh. She was a member of Rajya Sabha from April 1972 to April 1978. She was also President of the Rajasthan Pradesh Congress Committee.

Awards

She was awarded the Padma Shri in 1984 for her contribution to Rajasthani literature. Similarly she has received many awards such as Sahitya Mahamahopadhyay, Rajasthan Ratna, Tessitory Gold Award, Maharana Kumbha Award, Soviet Land Nehru Award.
This page is based on the copyrighted Wikipedia Lakshmi Kumari Chundawat; it is used under the Creative Commons Attribution-ShareAlike 3.0 Unported License. You may redistribute it, verbatim or modified, providing that you comply with the terms of the CC-BY-SA.