Lalleshwari
Lalleshwari
(1320 – 1392 / Pandrethan, Srinagar, Kashmir / India)
Biography of Lalleshwari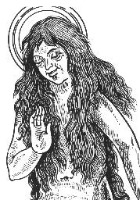 Lalleshwari (लल्लेश्वरी) (1320–1392), also known as Lalla, Lal Ded or "Lal Arifa".She was a mystic of the Kashmiri Shaivite sect, and at the same time, a Sufi saint. She is a creator of the mystic poetry called vatsun or Vakhs, literally 'speech'. Known as Lal Vakhs, her verses are the earliest compositions in the Kashmiri language and are an important part in history of Kashmiri literature.

Lal Ded and her mystic musings continue to have a deep impact on the psyche of Kashmiri common man, and the 2000 National Seminar on her held at New Delhi led to the release of the book Remembering Lal Ded in Modern Times. A solo play in English, Hindi and Kashmiri titled 'Lal Ded' (based on her life), has been performed by actress Mita Vashisht all over India since 2004.

Biography

Lalleshwari was born in Pandrethan (ancient Puranadhisthana) some four and a half miles to the southeast of Srinagar in a Kashmiri Pandit family. She married at age twelve, but her marriage was unhappy and she left home at twenty-four to take sanyas (renunciation) and become a disciple of the Shaivite guru Siddha Srikantha (Sed Bayu). She continued the mystic tradition of Shaivism in Kashmir, which was known as Trika before 1900.

There are various stories about Lal Ded's encounters with the founding fathers of Kashmiri Sufism. One story recounts how, when Sheikh Nooruddin Noorani (Nund Rishi) was born, he wouldn't feed from his mother. After three days, Lal Ded arrived and fed him herself. She said to the baby that, since he hadn't been ashamed to be born, why should he be ashamed to drink from his mother's breast?

Her poems (called vakhs) have been translated into English by Richard Temple, Jaylal Kaul, Coleman Barks, Jaishree Odin, and Ranjit Hoskote.

Lal Vakh

Lala Vakh, literally mean sayings of Lala or Lala Ded...

Lal Vakh in Kashmiri:

"yi yi karu'm suy artsun
yi rasini vichoarum thi mantar
yihay lagamo dhahas partsun
suy Parasivun tanthar"

Translation:
"Whatever work I did became worship of the Lord;
Whatever word I uttered became a prayer;
Whatever this body of mine experienced became
the sadhana of Saiva Tantra
illumining my path to Parmasiva." -138
This page is based on the copyrighted Wikipedia Lalleshwari; it is used under the Creative Commons Attribution-ShareAlike 3.0 Unported License. You may redistribute it, verbatim or modified, providing that you comply with the terms of the CC-BY-SA.
The Soul, Like The Moon
The soul, like the moon,
is now, and always new again.

And I have seen the ocean
continuously creating.

Since I scoured my mind
and my body, I too, Lalla,
am new, each moment new.