Lamar Denby
Lamar Denby
(04/07/53 / Hemphill, Texas)
Biography of Lamar Denby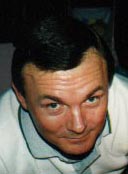 Lamar Denby, Jr. was born April 7,1953 and grew up in the small East Texas communities of Patroon and Goober Hill. Attending church revivals, homecomings, and gospel singings with his grandmother, Lela Wilburn Denby, was a big part of his upbringing. She once gave him a LP by The Happy Goodman Family for attending a two week singing school to learn shape notes. There he met Roxanne Miller. He was saved at age seventeen and soon after surrendered his life to preach the Gospel. He and Roxanne were married in 1974. They have three children: JoAnna, Robert and Ashley. They also have three grandchildren: Hunter and Tanner Elliott and Anna Denby.

Lamar is the Senior Pastor of Highway Baptist Church in Huntington, Texas, where he has served since 1984. As a pastor he knows the importance of the local church and truly has a desire to see it thrive. God has given him a heart for people.

Lamar held his first Revival when he was eighteen. Since that time the Lord has opened doors for him to preach the Gospel in many churches and public arenas such as amphitheaters, high school auditoriums, and civic centers. He has shared the platform with nationally known Southern Gospel artists like The Toney Brothers, The Southern Plainsmen Quartet, and The Stanleys.

Lamar Denby has a burden for souls and a sincere desire to be used of God to preach the Gospel. In his meetings you will hear God's Word proclaimed without fear, favor, or compromise.
I Called Upon His Name
In sin, all alone,
I had no life, no friend, no song.
I heard of Jesus' love,
how for me He shed His blood.
I called upon His name,
He washed away my stain.

In Christ, never alone,
He is my life, He is my song.