Landan Chandler
Landan Chandler
(01,07,1991 / Natchitoches, La.)
Biography of Landan Chandler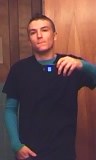 My name is Mark Landan Chandler. I am 19 and live in Lousiana. I enjoy listening to music and going to school where i am taking aotumotive technology. AUTOMECHANIC BITCHES! ! ! ! ! ! !
Sunshine
I saw the sun today,
Eyes blue as the sky,
Just as beautiful when it rises and when it sets,
Although it was only for a moment,
The image is burned into my mind,
For I saw the sun, and the sun said 'Hi'.