Landan Chandler
Landan Chandler
(01,07,1991 / Natchitoches, La.)
Biography of Landan Chandler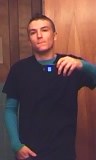 My name is Mark Landan Chandler. I am 19 and live in Lousiana. I enjoy listening to music and going to school where i am taking aotumotive technology. AUTOMECHANIC BITCHES! ! ! ! ! ! !
Love Turns To Hate
Love is hate, Love is pain,
Love is somthing you will never understand,
But now all my love for you has turned to hate,
And now you search for love but will never find it,
Because you found it before but was blinded lust,
And when you relize and want it back it won't be there,
Because all my love has turned to hate.