Landan Chandler
Landan Chandler
(01,07,1991 / Natchitoches, La.)
Biography of Landan Chandler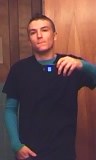 My name is Mark Landan Chandler. I am 19 and live in Lousiana. I enjoy listening to music and going to school where i am taking aotumotive technology. AUTOMECHANIC BITCHES! ! ! ! ! ! !
Like Poison In My Viens
When I'm awke it's on my mind,
When I sleep i see her face,
When I'm quiet i hear her voice,
I find it impossible to forget,
I find it impossible to get past you,
But i don't want to get over you,
But it seems impossible to get you back.