larry goodell
larry goodell
(June 20,1935 / Roswell, New Mexico)
Biography of larry goodell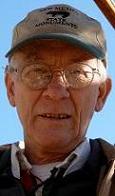 Larry is a poet whose work is performance, but he is just as enthusiastically concerned about how his poetry reads on the page. He is also an organic gardener, editor and performance arts organizer. In 1964 he founded duende press which published new writing by Margaret Randall, Kenneth Irby, Robert Kelly, Larry Eigner, Stephen Rodefer, Judy Grahn, Simon Ortiz and Judson Crews. In the 70's he put out Fervent Valley, a contemporary poetry and art magazine.

Larry has been working with the Duende Poetry Series in Placitas since its inception a few years ago. Before that he has a long history of promoting poetry readings and performances. Larry organized poetry readings for New Mexico poets (and some visiting poets) for the Albuquerque Downtown Saturday Night Festivals several years ago, and he was director the Albuquerque United Artists Poetry Readings, and an organizer of the September Experimental Performance Festivals for the Downtown Center for the Arts 1981-82. He was Project Director for the Rio Grande Writers Distribution (1982-83) which made available new published writing from New Mexico and the Southwest, and he was organizer of the Rio Grande Poets and Writers Festival 1983 at the Kimo Theater in Albuquerque. He has edited the Rio Grande Writers Association Newsletter and the Writer's Column of the New Mexico Independent, and his column 'Backfire' appeared in Southwestern Discoveries. KNME-TV's Colores produced a program of Larry's work and he received a National Endowment for the Arts Foundation Grant in 1983. He is now working with the Duende Poetry Series at Anasazi Fields Winery in Placitas, New Mexico.

He moved to Placitas in 1963 where he is now living with his wife, Lenore, nature & wildfower photographer. Larry worked at the Living Batch Bookstore in Albuquerque coordinating the poetry readings from 1970 to 1991. Goodell has given community readings and visited classes in Las Cruces and Las Vegas, New Mexico. He was in Clayton and Shiprock as part of the Tumblewords program, which brings literature to more remote communities of the state. He has taught at the Albuquerque Academy, at the New Mexico Military Institute in Roswell, and at the University of New Mexico. He was featured poet for two summers at UNM=s Summer Writer's Workshop, taught a Poetry Writing class for the English Department for three semesters and taught Poetry Writing in Continuing Education at UNM. He taught at Highlands, Bear Canyon, Los Volcanes and East Gateway Senior Citizen's Centers as part of the Senior Arts program. He=s visited Sandia Academy, Sandia High School, Freedom High, Bernalillo High School and various elementary schools as a visiting poet.
gazine.

Larry Goodell was born in Roswell, New Mexico, June 20th,1935, and attended Roswell Senior High School. He got his B.A. degree from the University of Southern California (Phi Beta Kappa) and did considerable graduate work at the University of New Mexico where he studied with Robert Creeley. He learned directly from contemporary poets Charles Olson, Allen Ginsberg, Robert Duncan, Denise Levertov, and Philip Whalen at the Vancouver Poetry Festival 1963, and from Ed Dorn, Jack Spicer and the British novelist Ann Quin at the Berkeley Poetry Festival 1965.

larry goodell's Works:

His work is represented in In Company, an Anthology of New Mexico Poets, Santa Fe Poetry Broadside #48 (online) , Tumblewords, Writers Reading the West, University of Nevada Press,1995, New Mexico Poetry Renaissance, Red Crane,1994, and in magazines such as Albuzerxque (a CD) , Sin Fronteras, The Taos Review, Sulphur, Blue Mesa Review, Conjunctions, Puerto del Sol, Exquisite Corpse, Artspace, Telephone, Contact II, Infolio 85, Fish Drum, Chameleon, Huevos, Way West Underground, Southwest Literature, Central Avenue.

Larry has read in New York, California, and on a seven-city cross-country tour. He read at the 1st and at the 10th Taos Poetry Circus and was a featured reader at the Bisbee Poetry Festival and the Talking Gourds Festival in Telluride. He reenacted Vachel Lindsay (1879-1931) , America's first major performance poet, for the Chautauqua series sponsored by New Mexico Humanities He reads for benefits often and has premiered several of his plays at the Vortex Theater and the full-length radio drama, Pecos Bill, at KUNM-FM in Albuquerque.

Firecracker Soup (Poems 1980-1987) came out from Cinco Puntos Press in the spring of 1990. Out of Secrecy was published by Yoo-Hoo Press. Ubik Sound of Albuquerque produced Goodell's The Mad New Mexican (Songs 1981-86) on cassette tape. Dawn Ladder came out from San Marcos Press in 1983, and his first book was Cycles from duende press. Here On Earth, a book of sonnets, is available from La Alameda Press.