Larry Jaffe
Larry Jaffe
(Da Bronx)
Biography of Larry Jaffe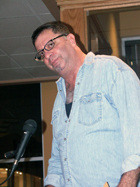 The New Official Anti-Bio

From the sensually romantic to humor and social commentary, Jaffe impacts audiences with a rich emotional range, masterfully crafted. His poetry appears in numerous anthologies, magazines, and on the Internet where he has pioneered poetry web sites. Jaffe claims to have been born on a mountaintop in the South Bronx, in the shadow of Yankee Stadium. From the time he could walk, he either was going to play baseball, hoops or be a poet. Sometimes he thought he was the spiritual reincarnation of Davy Crockett. He felt he had that mountaintop thing in common with Crockett and also his folks once bought him a coonskin cap which stimulated this peculiar tangent. In truth, he is the product of his own dreams. And has fond hopes of being classified a world citizen walking in the shadows of Mr. Neruda. As for how he writes, Jaffe was once quoted saying that the air is letters, I breathe them in and simply breathe out poetry. He writes with romance and a satirical tongue pressed firmly to his cheek. But do not take his sense of humor for lack of worldly concern.

For his entire professional career Larry Jaffe has been using his art to promote human rights. He is a distinguished poet with a tremendous following who prides himself on his community involvement and care. The former poet-in-residence at the Autry Museum of Western Heritage, Jaffe has been hosting and curating poetry readings while editing Poetix Poetry Magazine (a guide to Southern California Poetry) . Jaffe was also a featured poet for Daimler/Chrysler's Spirit in the Words poetry program. He is the co-founder of Poets for Peace (now Poets for Human Rights) and spearheaded along with Rattapalax Publisher Ram Devineni the United Nations Dialogue among Civilizations through Poetry project which incorporated hundreds of readings in hundreds of cities globally. Jaffe is an official Ambassador for Youth for Human Rights and has been featured in poetry venues and festivals both throughout the U.S. and abroad. He has read his work in such distinguished locations as the Japanese American Museum, Hammer Museum, the Jewish Museum and the Museum of Literature in Prague and the Dylan Thomas Centre in Wales. He still loves to read in a variety of bookstores, coffeehouses and bars to keep his roots in tact. Jaffe's dynamic work integrates a strong sense of humor along with his tough stand on human rights and freedom.


jaffe@lgjaffe.com
www.lgjaffe.com

Larry Jaffe's Works:

Jaffe's books include Jewish Soulfood, Unprotected Poetry book and CD, The Anguish of the Blacksmith's Forge and the poetic noir L. A. Rhapsody.
Unleash The Bonds
Formed of deceit
And let the spirit fly

Unleash the bonds
Of pseudo-humanity
Lift the spirit to the sky

Unleash the bonds
Unleash the bonds
And let the spirit fly